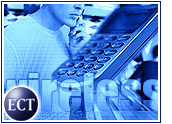 For those who have faithfully followed the e-commerce and high-tech headlines, one of last year's hot topics was the emergence of wireless services.
As far back as a year ago, I wrote a story asking the question on everybody's mind: What's taking wireless so long?
Today, with technology constantly evolving and business-to-consumer e-commerce getting back on its feet after the much-discussed shakeout, I'm still wondering. Where is wireless?
Like so many others, I was fully jazzed about the notion of sitting on an airplane and using my handheld computer to make dinner reservations in my destination city, followed by a quick check on the status of a previously hired car at the airport. Just the idea of being able to read and answer e-mail while commuting was enough to get my attention.
Still Tethered
The sad truth is that wireless appears to be stalled. Not only is it not widely available yet, but the first quarter of this year saw thousands of jobs at wireless companies eliminated.
That leaves us still tethered after all these years. Either we're tied to our desks at home and at the office, or we're schlepping our laptops from one hookup destination to another.
For those of us who use the Internet much of the day, every day, being dependent on a physical phone line connection is becoming tedious. Weren't we supposed to be able to do our grocery shopping online while sitting in the dentist's waiting room by now?
It seems to me that the e-commerce industry as a whole would do well to motivate a groundswell of support for the fast and furious development of wireless technology. If we consumers could shop from our cell phones during involuntary downtimes, such as the moments we spend standing in line or waiting for subways, chances are that e-tailers would be the major beneficiaries.
Sluggish America
The plain fact is Americans have a hard time being idle. We don't like to be un-engaged. So, I'm wondering why America is lagging behind other countries in the wireless revolution.
According to the Federal Communications Commission, Americans will spend a negligible 1.6 hours per person using the wireless Internet this year. That will increase to a measly 11.4 hours for the year 2004 and 27.6 by 2006.
In other words, at least through 2004, either Americans are saying no to the use of wireless Internet, or wireless companies are simply not ready to provide the necessary service.
Something tells me Americans would jump at the chance to be set free.
Limited Options
In a New Economy where each element is dependent on every other, e-commerce could suffer mightily if it misses any consumer options.
People want to shop on their own terms, when and where they choose. The "when" has been solved. I can buy Nebraska steaks at 3 a.m. from my laptop. But the options for "where" seem to have hit a roadblock.
The lack of useful products available via wireless Internet has yielded a public that needs some convincing. After all, beyond stock quotes, sports scores and weather reports, what does wireless have to offer? More importantly, what does wireless have to offer for sale?
Content vs. Commerce
That unresolved issue is precisely the reason e-tailers and other New Economy players should be pushing the wireless cause.
The more that wireless becomes associated with online content, instead of online sales, the more work that the e-commerce industry will have to do down the road in winning consumers over.
E-tailers need every transaction they can summon and every available vehicle by which to sell, including wireless. It's time for e-commerce to pick up its pom-poms and yell, "Give Me a W!"
What do you think? Let's talk about it.

---
Note:
The opinions expressed by our columnists are their own and do not necessarily reflect the views of the E-Commerce Times or its management.
---