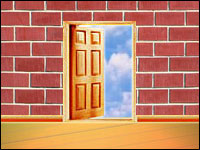 CIOs are increasingly looking to move to the cloud to cut equipment and staffing costs. However, moving to the cloud can often be a difficult transition. It's not just a question of picking up your systems and going; enterprises need to do thorough and careful planning.
They must rethink their existing approaches to IT and mustn't assume that cloud-based applications can be tapped easily.
Feel the Change
Although it's been beset by frequent changes at the top in its IT sector, and is understaffed, the U.S. federal government is moving to the cloud en masse over time. In May, it moved its Recovery.gov website to the cloud, and it plans to do the same for its other websites.
Why then should enterprises find going to the cloud difficult? They have better control over their systems than the feds, after all. And they do generally have continuity of IT leadership and better IT staffing levels.
"One of the biggest problems with moving to the cloud is that people are implementing and managing technologies like they did in the on-premise world," Eric Berridge, a cofounder at Bluewolf, told the E-Commerce Times.
"What we've found out after 10 years of doing Software as a Service and cloud implementations with numerous enterprise clients is that people have bought into the notion about what the cloud can offer, but they haven't looked in the mirror and seen what needs to be done culturally," he said.
It's Not the Tools, It's the Thinking
"People have bought into the cloud — the flexibility it offers and so on — but they aren't ready to manage that flexibility," Berridge stated.
For example, traditional, on-premise applications are updated three, maybe four times a year. Applications on the cloud, however, are updated a lot more frequently.
"We're constantly rolling out new functionalities for one of our biggest customers; we did a lot of training for their IT teams, and they needed to be mentally prepared for us to roll out functions to them all the time," Berridge said. "As we got features from users, we'd innovate on them, and they needed to be ready for that."
Rapid and frequent rollouts are a feature of companies with operations in the cloud.
Facebook, for example, does a full release of everything on the site once a week, which means the operations and infrastructure is always changing.
"We have weekly releases on Tuesday nights," Jeremy King, executive vice president of technology and products at LiveOps, told the E-Commerce Times. "Some enterprise customers don't know how to deal with weekly changes," he added.
"It's not just about the technology; it's about the teams and how are you, as an organization, culturally ready and prepared to innovate your business?" King said. "Yes, you can put up a Salesforce platform in 60 days, but it's not just 60 days won and done."
"One of the biggest myths in cloud computing is that you can just turn it on and it's available to you," Bluewolf's Berridge said. "You have to make sure your business processes as an organization are in order to really leverage the value of what the cloud can provide. It's a business process reengineering exercise, and most companies don't realize that."
Have a Plan; Follow the Plan
Rather than just jump in with both feet, enterprises need to put time and effort into planning their move to the cloud.
"The move to public cloud offerings or a class of cloud applications needs to be properly planned and thought through and through," Reza Malekzadeh, vice president of Marketing at Nimbula, told the E-Commerce Times.
"It's very easy to sign up and agree to terms and conditions, but as simple and attractive as that process might be, it will not necessarily address all the concerns customers have about not only how their applications run and where the data is stored, but also all policies they might have internally about who can access what workloads with what rights," Malekzadeh elaborated.
Security and QoS
Many enterprises fear moving to the cloud will expose them to security breaches.
"The cloud is actually more secure than your internal network and the applications that reside on it," Mike Lingo, chief technology officer of Astadia, told the E-Commerce Times. "Any experienced cloud services vendor will have secure solutions that are more robust than what 99 percent of enterprises could build."
But enterprises have all the money and staff they need — or can get it. So why would they lag in building secure systems?
"Enterprises are hamstrung with infrastructure issues and governance practice," Lingo explained. "With the cloud, you don't have the same barriers."
Enforcing a service level agreement is the same as in the physical world. Different vendors have different approaches to the level of commitment or punitive response they'll provide, but ultimately they "provide way more uptime and liability than a client's internal applications have ever done," Lingo said.
Prepping for the Cloud
Enterprises that are moving to the cloud must have a strategy and vision, a way to execute on that vision, and a method to sustain the innovation you get out of the cloud, Berridge stated.
"The strategy and vision has to come from the executives in an organization," Berridge pointed out. "You can't just turn on the cloud at the mid-level part of your organization."
Those who lived through the move to client/server back in the '80s will recall that enterprises found they needed an IT champion, preferably at the C level — a CIO, CTO or even the CEO — who would throw his or her prestige and power behind a client/server initiative.
Sustaining the innovation enterprises get out of the cloud is where they'll get the most bang for their buck.
"Traditionally, organizations have implemented software, taken a step back and hoped it met the mark, then waited for the next release, which was two to five years out, before they pushed their initiative any further, because it was expensive," Berridge said. "The cloud is the opposite; its value is in the ongoing change you can bring to the organization."