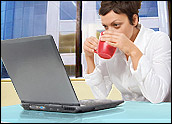 Uncle Sam is often portrayed as a technological laggard, representing a market segment bringing up the rear as new innovations take hold. Well, surprise, surprise — the government is ahead of the private sector by a better than a three-to-one margin in one emerging area: telework.
"To be successful, telework programs must be top-down initiatives, and there has been more support from the top in the government than in the private sector," said James D. Pettler, senior research analyst with IDC's Government Insights.
Telework, the recent term for telecommuting, enables employees to work at home or from remote offices instead of commuting to the main office. The potential benefits to the employer are great: reduced real estate costs, the ability to attract more seasoned employees, increased productivity and higher employee retention. The employee gains flexibility in balancing work and personal responsibilities, reduced stress from avoiding commuting bottlenecks, and a higher sense of job satisfaction.
While telework has a great many potential benefits, few organizations have adopted it. In fact, only 15 percent of private sector employees are able to telework, according to a CDW survey.
Additionally, while there are many obstacles, employee resistance to the idea is not one of them. Sixty-three percent of employees in the private sector and 79 percent in the federal government want to take advantage of telework programs, according to CDW research.
Clearing the Technical Hurdles
Nevertheless, technical issues no longer pose a major problem to telework adoption. A variety of high-speed Internet connections enable employees to access information in a manner similar to that when they are sitting in their cubicles. With online collaboration tools, employees are able to take part in important decisions from their living rooms rather than company conference rooms.
However, there are barriers to telework acceptance, some real and others perceived. In certain cases, an individual's tasks do not lend themselves to telework. "In industries like retail, healthcare and manufacturing, there clearly are positions where hands-on activities are required, so individuals could not telework," said Gil Gordon, founder of telework consulting firm Gil Gordon Associates.
Instituting telework programs requires a significant upfront investment. Companies often pay for home computing equipment, application and security software, and high-speed telecommunications lines — expenses that in some cases double their IT investment in each employee. Yet, these investments can usually be cost justified.
"I've never seen a case where a company did not at least break even from its telework program," said Gordon. The savings come in areas such as reduced real estate expenses, increased employee productivity and lower employee turnover.
Big Brother Needs to be Watching
Executives decide whether or not a company should take advantage of these potential benefits, and in some cases, they put up roadblocks to telework programs.
"Many managers feel like if they are not watching their employees, then they are not producing quality work," said Cindy Auten, general manager for Telework Exchange, a telework consortium. "It's the Luddite mentality that needs to change."
The barriers do not seem to be as significant in the federal government. In fact, 44 percent of these workers had the option to telework in 2006, the CDW survey discovered — an increase of 6 percent since 2005. One reason for the high penetration is legislators have been aggressive, and have even forced agencies to put telework programs in place. The push began in 1995 with a law allocating funding for telework programs, and gained momentum in 2000 when Congress mandated that federal agencies offer workers the ability to telework, based upon their job descriptions.
Two goals drove the legislators' mandate. "The government wants to drive the use of telework in federal agencies order to improve their efficiency," said IDC's Pettler. Ideally, this will enable the government to deliver more services at a lower cost. In addition, telework has the potential to help address pollution and traffic congestion problems by decreasing automobile use.
Lessons from 9/11
Another driver for telework came after 9/11, when federal agencies realized they had to put comprehensive contingency programs in place. "By adopting telework programs, agencies can ensure the continuity of their operations in the aftermath of major catastrophes, or the duration of minor inconveniences, such as snowstorms," said Firooz Ghanbarzadeh, director of technology services and solutions at CDW. In fact, 87 percent of federal survey respondents said they could continue to work via telework in the case of a displacing event, compared to 66 percent of their non-teleworking counterparts.
As a result of the different initiatives, the government has been moving aggressively to put the infrastructure in place to support its teleworkers. Forty-two percent of federal IT professionals said their agencies started or expanded telework programs in 2006, and 62 percent of federal agencies had written IT telework policies in 2006, compared to 46 percent in 2005. The formal policies cover items such as employee eligibility, how to store and handle enterprise data, setting up secure telework connections, and how to safeguard citizen information.
Recently, the government has gone a step further in strengthening its infrastructure: appointing telework coordinators (a change sparked by legislation in 2004), whose job is to champion the program's acceptance within their departments.
"There is a direct correlation between having a person in charge of a telework program and how widespread its usage is," said Telework Exchange's Auten. Novice — and sometimes even experienced — teleworkers feel comfortable having a central person to contact, and the coordinator can help market the program by answering questions and assuaging doubts.
The end result is the government has opened up a significant lead in telework adoption over the private sector. "Since making the decision in 2000 that telework must be an option for government employees, the government has been figuring out what policies and processes need to be in place so these programs will be successful," concluded IDC's Pettler. Their experience is turning into a blueprint that the private sector may follow.