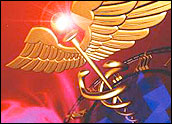 mHealth is an exciting new industry that blends healthcare and wireless. In the next couple of weeks, I will be meeting with many people representing companies and new ideas in the mHealth industry at the annual CTIA show in Orlando. Some of these are established large companies, while others are small and spunky startups, but all have some very hot ideas and technologies they want to talk about.
This mobile health space is starting to get some traction, and I believe it is getting ready to explode into the marketplace. That's the good part.
Plus, in my Pick of the Week segment at the end of this column, I want to tell you about Ascom, a wireless company that just got approval from the FDA for an exciting new service called "Cardiomax."
An Industry With No Name
Wireless health is becoming one of the most exciting places to watch. It is transforming the medical and health industry as the healthcare and wireless and telecom industries come together. This is just the first inning in what I see turning into a very exciting game.
I am looking forward to watching it and talking about it as an industry analyst, and to working with many companies as a consultant. The next few years may transform the world of healthcare we are all familiar with. Some companies will win and others will not, but the battle of ideas will be inspiring.
One of the key problems that we have to address as this new industry segment develops is what will we call it? There has to be one main category name, then several categories under that, and then several subcategories under that.
As an example, think about the term "telecom" as the main name for an industry. Then subheadings can be wireless, VoIP, telephone, television and so on. The next level of subcategories under "wireless" could be voice, data, Web, video, GPS, photography and more.
So let me ask you, what is the name for this entire wireless healthcare segment? We see all the competing subheadings clamoring for attention, as it should be, but what is the main segment name?
That's right, there isn't one yet.
How can that be? That is such a basic point. There is no central point on the chart with a name and lines going out from that point for each segment, then more lines going out from those points to the subsegments and so on.
We have to create and agree on a name for the larger industry group so every reporter and news story and advertisement and investment and conference understands. One key term.
World-Changing Potential
Let's back up. The changing healthcare industry touches more than just wireless. It is also involved with wireline. So first we should look at the larger world of communications blending with health and give that the main name. Then under that there could be other categories.
Think about the smartphone industry. It was growing for years, led by companies like RIM (BlackBerry) and Palm. Then, about four years ago, the marketplace changed and exploded with the introduction of Apple's iPhone, followed by Google's Android operating system.
Suddenly the mobile app marketplace jumped from a few hundred to a few hundred thousand. Suddenly, growth has skyrocketed from around 15 percent to somewhere around 50 percent. Suddenly, smartphones are changing the world, and we are just in the very early stages.
The same thing is about to happen here. There are so many names we bandy about every day — names like "wireless health," "mobile health," "cellular health," "mHealth," "eHealth" and many more.
Whether you are an investor, a worker, an executive, a doctor or a patient, you have a stake in making this industry easy to understand. It will get confusing enough in the next few years as things really start to explode. Remember the 1990s, when local and long distance and wireless and wireless data and the rest exploded onto the scene? There has to be structure, or our building will fall as it grows.
There are many exciting sectors growth will come from. Some of the new areas are smartphones, tablet computers and new software all connected wirelessly. These can and will revolutionize the medical experience. In addition to doctors, the patients will have access to eHealth technology as well. This technology will not only improve the entire process, but it can cut costs as well.
The cost of healthcare has to come down as well. The current model may have to be changed. There are competing forces battling the cost model right now. It is a very interesting battle. It seems we do have a choice in the matter.
I will write more on both sides of this in future columns.
So send me your thoughts on the main name for this industry segment. I want to see which names seem to get the most votes. I'll let you know the results in an upcoming column.

Ever wonder how doctors and nurses can keep an eye on patients in hospitals and react quickly when something goes wrong? That's the challenge.
Ascom, a North Carolina-based wireless communications company, has announced that Cardiomax, which is a patient monitoring component within its ClinicalConneX service, received 510(k) clearance from the Food and Drug Administration as a medical device.
Cardiomax will forward alarm information to Ascom handsets, pagers and LED signs. This means bedside monitoring alarms can be forwarded throughout the system. This will help doctors, nurses and the hospital stay connected during patient care.
Communications solutions speed up response to alarms from medical monitoring equipment to detect abnormal respiratory, cardiac and other conditions which providers quicker response to emergency situation demands, according to Ascom.
Nurses and physicians get status reports on request and alarms when conditions deviate from preset values. Information does right into the pocket telephone, freeing staff for other duties than watching monitors. Treatment can start earlier, which improves outcomes and potentially saves lives, the company says.
The new Medical Device Data System rule classifies Cardiomax as a "class 1" device. That means it is low risk, and that means it is exempt from premarket review.
Now Ascom is going to deploy the system nationwide. The CEO in the United States is Chad West, and he says they have a first mover advantage — for a little while, anyway — as they deploy the system nationwide.
This is a part of the revolution of many new and innovative ideas that are erupting right now, which blend healthcare and wireless and telecom technologies.