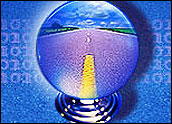 Where should you invest, what should you avoid, why and when? These are the basic questions every investor wrestles with. There are so many companies in the wireless, telecom and healthcare industries, and they are no longer on the same track. Some are strong and growing rapidly and leading, while others are struggling. Even the leaders have things to be aware of.
I recently gave a speech to an investor group. I get invited to these meetings regularly. Let me share some of what I discussed. I am an industry analyst — not a stock analyst — but I have been following this industry for 25 years and have seen all the different waves of ups and downs.
I have seen how changes in the industry lead to some companies succeeding and growing, while other companies struggle just to keep their head above water. Seeing who will win and lose tomorrow can be difficult, but that's investing.
I'd like to take a look at some of the top companies, how they have done so far, and what the next few years looks like for each of them, starting this week with some of the local phone companies. In upcoming columns, I'll focus on different industry sectors.
Verizon: Strength and Innovation
The Baby Bells are an interesting place to start. Ten years ago, the industry looked very different. The local phone line business was still growing. These companies were the big players in the industry. Since then the industry has transformed itself and is still doing so.
Today, instead of seven Baby Bells, there are only three: Verizon, AT&T and Qwest. There are no separate long distance giants since AT&T and MCI were acquired.
Today the Baby Bells compete with the cable television companies, with wireless companies, VoIP companies and assorted others. They offer big bundles of services including telephone, wireless, Internet and television.
Verizon and Verizon Wireless are very well run, showing real strength and innovation over the last decade. As the industry changes, they are transforming themselves as well.
A few months ago, I spoke with Peter Thonis, Verizon's chief communications officer, and he said the company is changing. It has sold off many access lines and is now more heavily focused on wireless and FiOS. Verizon also sees cloud-based services as a larger opportunity going forward.
Verizon's traditional wireline phone business is on the downside of the wave, but its wireless, FiOS and other businesses are on the growth side.
Its wireless business had not been growing as quickly as some competitors over recent years, but its new focus on smartphones like the Droid line and Apple's iPhone have put it on the right path, and rapid growth is now occurring.
CEO Ivan Seidenberg is retiring later this year, and he has successfully transformed the company over the last two decades. Lowell McAdam, who ran wireless, will take his place. I have watched Lowell over the years and have been impressed so far. He has his work cut out for him as the industry continues to change. Verizon performance as a competitor has been very good to date.
AT&T: Looking Good
AT&T and AT&T Mobility are similar to Verizon in many ways. They are the other 800-pound gorillas in the room. They are also doing strong business on both the wireline side and the wireless side. AT&T has a few areas to keep an eye on as well.
Like Verizon, its traditional wireline business is shrinking, but its wireless and U-verse television offering is growing. There is plenty of growth to come, and this looks good so far.
One reason for worry is that much of its growth in wireless in recent years has come from its exclusive Apple iPhone offering. Now Verizon Wireless also carries the iPhone, so the natural question is how badly will this hurt AT&T Mobility? We don't know yet, but this will not be a positive for the company.
However, AT&T is still strong and growing. I have been very impressed with new CEO Randall Stephenson and his performance so far. Ralph de la Vega heads up the wireless business, and he has a strong success record as well. This looks like a good strong and growing company at present.
Larry Solomon heads up corporate communications and focuses on keeping the company looking strong and healthy. Based on what we know about the company, this seems to be going well. So far, this new company looks good.
We have to remember however that this large and strong company is brand new. Just a few short years ago, it was the much smaller SBC Communications, based in San Antonio, Texas. It went on an almost mad acquisition spree. It acquired AT&T, AT&T Wireless, BellSouth and Cingular within a very short period of time.
This transformative period can be taxing to any company as it tries to merge and meld the many different cultures.
Many workers and customers have reached out to me to express their dissatisfaction with the company right now. Many others are, of course, happy. So it depends on what occurs over the next several years. We'll keep our eyes on it. There is plenty of potential risk, but so far so good at Ma Bell.
Qwest: Big Bumps in the Road
Qwest is another story. This company has gone through the wringer in the last 15 years. Changing from a standard Baby Bell, US West, to the current Qwest has been a challenge. It covers roughly the same territory it did from the beginning. It looked like it might have been on a success track in the late 1990s, until telecom hit a brick wall. After that, the company struggled to survive.
It brought in a new CEO, Dick Notebaert, who ran Ameritech and managed to save Qwest. That was the good part, but he was not able to grow the company. Now it has a new CEO, Edward Mueller, and he has been struggling as well.
This company does not offer its own wireless services. It resells Verizon Wireless after reselling Sprint for year. Surprisingly and disappointingly, this is not a very successful part of its offering.
I'll discuss Sprint Nextel in an upcoming column focused on the wireless sector.
Qwest offers high-speed Internet and resells satellite television. It seems to market many services, but it doesn't own many of them, so its innovation is just not there. Neither is its marketing. It has been limping along compared with bigger sisters Verizon and AT&T.
Qwest has struggled for years. Now it is being acquired by CenturyLink. This is one of two smaller and more rural local phone companies that seems to be doing strong business so far.
CenturyLink: Growing Through Acquisitions
CenturyLink is one of the smaller local phone companies that didn't get much attention until recently. It has been growing through acquisition. It has been acquiring smaller local phone companies. Around the United States, there are many small, local phone companies. It's not just the large Baby Bells.
Sprint had a local phone business that it spun off into a company called "Embarq," which was acquired by CenturyLink. The same thing is happening with Qwest. In fact, after the acquisition, CenturyLink will be the No. 3 baby bell after Verizon and AT&T.
This is a small, but rapidly growing company. It is not as advanced as the other Baby Bells, but it doesn't have the same competitive threat either. It loses local phone business every year, but not at the same rate as the Baby Bells. It loses business more slowly.
That is good; however, the company does lose business, and that is a concern — especially since its is not building its own television service to compete with the cable television industry and bring in new business.
CenturyLink is experimenting with a wireless offering. It offers wireless in a few markets. I don't know whether this will be successful or not. Remember, while AT&T, Verizon and Sprint do well with wireless, Qwest has not. Will CenturyLink? That is an important question.
So far, generally speaking, the company looks to continue its growth through acquisitions, but longer term is unsure. We'll have to keep our eyes on it.
Windstream: Strong and Growing
Another similar company is Windstream. This was Alltel until it broke up a few years ago. The wireless business was acquired by Verizon Wireless. The local phone business changed its name to "Windstream."
This is a strong and rapidly growing rural local phone company like CenturyLink. It has made so many acquisitions in recent years it is growing larger and stronger every year. That is the good part.
The part that I worry about is while it is growing through acquisition, the actual local phone business that is its core is shrinking. Each company it acquires wrestles with the same shrinking business threat. After being acquired, that does not disappear. It continues.
So, while Windstream continues to grow through acquisitions, which is the good part of the story, it also continues to shrink because of the other side of the coin.
As long as this company continues to acquire, I see it remaining strong and growing. However, once the acquisition wave slows, which it always does, I worry about its growth potential. It does not offer its own wireless or television services. It resells satellite television, and that is good — but not as good as owning and controlling like the Baby Bells.
I gave a speech to Windstream's CEO Jeff Gardner and its board of directors at a meeting several months ago, applauding its successes, and also stressing these longer-term concerns.
Its performance is strong to date. It should remain strong for a while. Long term it is not as clear. We'll have to keep our eyes on this as well.
Where on the Wave?
Where are these five companies on the Wave, which I discussed in a previous column?
Verizon and AT&T are on the growth side for now. Their local phone businesses are now shrinking, but they have transformed both companies well over the years into wireless and television. Qwest is on the falling side; however, it is now being acquired by CenturyLink, so perhaps it will get better.
Even though both CenturyLink and Windstream are losing local phone customers, they are bucking the trend by making acquisitions. So they are still on the growth side of the wave. When this activity slows, I think they will switch and be on the other side of the Wave, unless they can transform themselves. What is their strategy going forward?
These are just five companies in one sector of the rapidly growing and changing local phone side of the telecom industry. There are other sectors like wireless, television, Internet, cable television and the very rapidly growing and changing eHealth and mHealth industries in healthcare.
The good news is the industry in general is strong and growing. Individually, some companies are doing well, while other companies are not. Even among the companies that are doing well today, there are several signs to keep our eyes on that could affect them in the future. How they handle these challenges will make the difference going forward.
We have to watch all these companies for any changes in their positions as the industry changes, but right now things look strong in this sector in general. Any change in leadership does have potential risks and rewards, so we'll have to keep our eyes on it.
In the coming weeks, I will share my thoughts on the companies that are leading as well as those that are struggling in other sectors as well.