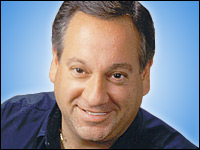 The annual giant Consumer Electronics Show is happening this week in Las Vegas, and once again everything new in the electronics world is on display. I've been to a number of these CES events, and each seems bigger than the last. It is held not only in the very large Las Vegas Convention Center, but also at the Sands convention center and many other casino convention centers up and down the strip, between official and unofficial sites.
In fact, there are countless big tents with corporate logos pitched in parking lots. Maybe it's cheaper than setting up a booth inside — who knows? Why else would they be outside in the winter? Even in the desert, it gets cold and rains now and then. This year, there's been an effort to curtail the show's growth by cutting down on the vast number of attendees. We'll see what that does.
If you have never been to the show, let me give you a tour. If you've been to any other trade show before and think you understand — let me just say, no you don't. That was my first mistake.
Line Dancing
First I arrive in town, walk off the airplane and am immediately thrust into the rush of people flowing toward the shuttle to baggage claim. The good part of all this chaos is you don't actually have to walk, because you are carried along. It's like floating in a rushing stream.
You come down the escalators and see the luggage racks, but then you look around and realize there is not any room for another human being down there. Yet your escalator thrusts more folks into the steaming mass. You are one of them. After a while you make it to your luggage rack to wait and pick up your bag. And wait. And wait. An hour later when you finally see it, you grab your bag and rush to the taxi stand.
You're free at last… you think… until you see the line for a cab. You realize this is like Disney World on its busiest day. A long line snaking back and forth and back and forth so many times you get dizzy.
Instead of waiting like everyone else, you decide to call for a limo instead, not thinking this may be their busiest time of the year too. What, there are no cars? You should have booked it months in advance? There are hundreds, if not thousands, of additional cars brought in from Los Angeles and other hot spots, but still no car for you? You are stuck in this taxi line waiting for a cab? Get used to it. That's life for the next few days.
By the time you actually get your taxi it feels like tomorrow. OK you are driving away from this crowd into Vegas. Now you are free at last. The cab driver is nice this time. He's happy because he's finally making some money I guess. Vegas has been slow the last couple years. He gives you the lay of the land. You say you can't believe how many people were at the airport. He laughs and says just wait.
Las Vegas has always been a hopping place until a couple years ago, when the president put a kibosh on the town. Suddenly shows canceled. People stopped coming. Money dried up. That threw this shining city in the desert into near financial turmoil. Tourism is its lifeblood after all. Avoid the town?
Vegas is finally starting to come back from that punch in the gut — slowly — but when CES is in town, it's like the good ole days. The good news is many of the big hotels have their SOLD OUT signs lit with pride.
I get to the hotel to relax before getting started, but find another long line to check in. After another long wait, I finally get my room. After checking email and freshening up, I grab my stuff and head out to the show.
The taxi stand at the hotel is just as obnoxious and long as at the airport. So I go to the bus, which will take me there more quickly, I hope.
A Booth With a View
I step off the bus and look around at all the people. There is a sea of people. Attendance at the show is expected to reach 120,000, and this is just the outflow. That's better than the 150,000 who attended in the past, but it's still enormous. There are 2,500 booths and about 1,200 of them are from overseas. This is truly an international show.
I walk in the doors and see the various entrances to the show. I get a map, which will make it easy to find the booths where I have appointments. I look at the map and cry. This is the largest floor I have ever seen, and this is only one of the many different floors where I have to be.
There I stand, in a mass of people, in one of many big convention center rooms, trying to find a needle in this haystack. Then the next needle, and the next.
To make matters worse, my first appointment is in this mass somewhere, but my next appointment is in a hotel up the strip. A short distance typically, but with this crowd there is no possible way to make it all happen. Interview after interview. This is an incredible zoo.
Then an idea pops into my head. Maybe next year, I will have a booth. Yeah — then they can all break their neck to try and get to me. That's the ticket. But that is next year. For now, I have to battle the crowds like everyone else.
I've learned there are countless limos to take you from event to event if you have the right connections. Fortunately I do, sometimes. That makes navigating the crowd much more doable. Still I'm exhausted by 11a.m.!
When you are reading the stories from all the media covering the show, cut them some slack. They too are numb from the shoulders up trying to survive this massive human thrust, while at the same time trying to write something that everyone else in the world can understand.
We are better off reading the stories for a sense of what is new and what is coming, but not for a real sense of how it will compare, compete and perform in the marketplace. You get too wrapped up in the excitement of the event to be objective. It is too easy to disconnect from the world in your mind while rushing from news conference to briefing to interview.
CES After Dark
OK, it's the end of the day. The show is over for the day. Thank goodness. Tomorrow is another day. Time to go back to the hotel for a little dinner and a good night sleep. Its 5 p.m. Vegas time, which means 8 p.m. to me.
Wait — I forgot — there are still a handful of party events I am scheduled for tonight at some of Vegas' hot spots. Don't get excited, though, these are not typical Vegas parties. They are full of the same dull or crazy people I've been battling all day, only this time we are battling for a crab leg while touring more booths. These can sometimes be interesting as senior executives are often present.
The booths at the show are huge. Actually they are like small cities. Companies like AT&T, Verizon, Sprint, Qwest and T-Mobile are always there somewhere. Now new companies like CenturyLink and Windstream may be getting involved. Google and Apple are now in the cellphone space, so it makes sense to see them there — but Apple is never at CES. I wonder what it will announce at its show. Booths at these after-the-show events are smaller and more intimate.
Wireless and cellular always plays a role at the show, but this is not a wireless show. That is just one of many segments of the consumer electronics industry represented at CES. This is the place to see it all in action, even before it's in the marketplace.
Telecom — wireless and wireline — does play an important role in the consumer electronics industry, since it's the highway the cars ride on.
Now please excuse me while I grab a few shrimp and crabs legs from the table for nourishment. What… this is Vegas. Got a long night ahead looking at all the upcoming smartphones and tablet computers and 3D TVs with built-in coolers so you don't have to walk to the kitchen anymore. What will they think of next?
---
Jeff Kagan
is an E-Commerce Times columnist and a wireless, telecom and technology analyst, author, speaker and consultant. Email him at
[email protected]
.