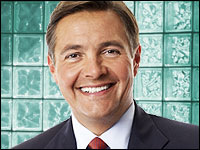 At this year's CA World 2010 event in Las Vegas, the company unveiled its cloud management road map, along with a working plan for a family of new solutions that will form its CA Cloud-Connected Management Suite in the months to come. That's not the only change that CA Technologies brought to the agenda.
With a new CEO on board, aggressive acquisition activity, revitalized branding and a solid commitment to the future of cloud services, the new CA Technologies is ready to take on the world and become the infrastructure service provider of choice, said George Fischer, executive vice president of global sales, client services and marketing.
CA has laid the groundwork to gain leadership in its key markets — identity and access management, IT Management as a Service, virtualization management and cloud computing — as 2010 progresses, Fischer believes . The company is also committed to maintaining its market-leading mainframe business.
The E-Commerce Times had an opportunity to speak with Fischer shortly after CA World 2010 about the company's transformation and its recently unveiled cloud management strategy.
E-Commerce Times: Tell us about CA Technologies' activity in 2009.
George Fischer:
2009 was a great year of transition for us, despite the fact that the first half was very tough on our customers and businesses. However, we emerged from a completely lackluster economy because of our strong financial model that maintained us throughout the downturn. The second half of the year the IT economy "awakened," and customers were doing large projects and spending again.
ECT: What has your new CEO, Bill McCracken brought to the company?Fischer:Bill [McCracken] brings a good clarity of vision and a strong management culture. He believes in building leadership capacity and understands markets very well. He sees how CA can grow with alternate channels to market. [He] has not only created a vision for us — he is building a performance culture that is breaking down silos and helping us move forward as a team.
ECT: What has the company been doing to prepare for the next stage of IT?
Fischer:
We saw early on how applications were becoming reliant on the network, whether Web-based or on devices. Over the last five years, we've put a lot of investment [into] building a product portfolio that we feel is very relevant to our key markets. We have also spent a long time building our network management strategy and heterogeneous management skills. CA is now strongly positioned to leverage our strengths in security, network management and virtualization to deliver a very powerful value proposition for anyone trying to scale their operations and increase velocity.
ECT: Where do you see cloud computing heading?
Fischer:
Cloud is not a new technology — it is an enabling technology that is being used in a new way. Cloud is about driving agility and adding power so organizations can meet their business objectives.
What is different today is that there are many organizations out there focusing their resources on their core competencies and using cloud IT to manage their company. In fact, we have met a number of emerging companies at this event that were moving all their services to the cloud.
I don't believe there has been a time since the Internet that we have seen such a disruptive model. There is a huge demand for harnessing and managing this technology, and we are committed to providing technology solutions to enable the acceleration power cloud has to offer.
Keynote speaker James Cameron told us that when he envisioned "Avatar" 15 years ago, the technology simply wasn't ready. The same thing has happened with cloud. It is the transformation people have always wanted to drive their businesses forward. Now we are finally seeing a perfect storm of opportunity for IT organizations to be dramatically more effective in a way that will make a real difference. The goal has always been there. Now the means are as well.
ECT: How will CA Technologies meet the cloud computing requirements of today and the future?
Fischer:
CA has been engaged in some key acquisitions as a means to open up new market segments in emerging markets like cloud. Our recent Nimsoft acquisition, for example, gives us a breakthrough architecture for systems management, performance and availability, as well as a strong route to markets through a network of 300 MSPs. NetQoS, for another, allows us to offer customers service-centric insight into network, systems and application performance across all environments. Oblicore strengthens our ability to set, measure and optimize service levels for both enterprise and cloud environments.
We have also announced an industry first with the launch of Cloud Commons. This is a new vendor-neutral collaborative community and website for IT professionals seeking insight into how to best use cloud computing and meet their business objectives.
ECT: What do you see as the major challenges with cloud computing?
Fischer:
Over the last two years, cloud has become the obvious disruptive technology. Everyone has been building massive networks. Yet is has become pretty clear that management is and will be a challenge. Yes, the basic trends of infrastructure management have been around for a while — but cloud is driving those trends a lot faster. And while CEOs are interested in having applications deployed a lot faster, at the same time, they're concerned about security and reliability. These are still unresolved issues.
As an infrastructure provider, we see security and the advancement of network management as key. There are tremendous opportunities for companies like CA Technologies to help businesses manage these very large networks so they can take things to the next level.
ECT: What's next for CA Technologies?
Fischer:
Five years ago, we were not a growth company and not in a very good place in terms of our customer relationships and driving innovation. Over the last five years, we have massively increased our credibility and added innovation. We now have a strong balance sheet, have expanded our channels, created new product opportunities, and improved customer relationships. That's why we're here today talking about a growth strategy.
We've done a lot of very hard work and are now ready to grow moving forward. We're finally seeing the end of the old. Now it's time to watch the transformation. It's a great place to be right now.