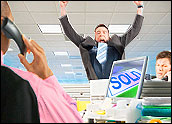 In the summer of 1999, I was researching potential software partners for a Web hosting company. I originally thought it would take only a few days to identify the leading vendors in areas ranging from ERP (enterprise resource planning) to CRM (customer relationship management) and e-commerce, but after weeks of research I had barely scratched the surface.
While it wasn't difficult to identify the vendors with the largest market share, software requirements vary so much among industries and companies, that simply settling for "industry leaders" was not going to work. Savvy IT buyers don't settle for a product just because it is the most popular. Furthermore, I recalled from my days of technology consulting with Price Waterhouse (now known as "PricewaterhouseCoopers") the numerous pitfalls that exist in the software purchase process.
More research led to two realizations: First, it wasn't just large companies having difficulty finding and implementing the right software — it was all organizations, large or small, for-profit or nonprofit; second, the largest expense for software companies was sales and promotion, not product development. Reaching software buyers was difficult and expensive. Connecting these two problems led to the idea of Capterra.
Facing Challenges
I quit my job in October and started Capterra on Nov. 1, 1999. It was the height of the tech boom, and thus relatively easy to raise a few hundred thousand dollars in seed money from friends and family. The original plan for the business model was to engage software vendors in partnerships and allow users to find and rent the software via the Capterra Web site.
After about six months, it was apparent that this was far too ambitious and we narrowed our focus to creating a free Web site where buyers would research solutions and software vendors would pay for exposure and leads. This was the same time that the market was collapsing and Internet companies were starting to go under.
One of the primary challenges that Capterra faced was that which many media-related startups face. In order for software buyers to use Capterra, the site needed to contain abundant information on software products. In order to attract software companies to spend marketing dollars, an audience of software buyers was required. We dealt with this by providing every software company with a free listing, which would become the foundation of a content-rich Web site.
Remaining Optimistic
After a little more than a year, the seed money was gone and we didn't even have our first paying customer. The economic climate was terrible and the odds seemed stacked against us. However, there was no question in my mind that we would figure this out and turn it into a business.
So, I started accepting all of the credit card offers I received, and ended up with 18 Visa and American Express cards. I charged everything and paid off my Visa bills with American Express checks and vice versa. In retrospect, I have to admit it felt rather insane. I didn't tell anyone; not even my family — I was not married at the time — or my friends. They always asked how things were going, and I always said they were going well. I was — and remain — an optimist. I didn't want anyone to worry about me, and I didn't see any point in talking about it.
We landed our first paying customer in April 2001, a local software company called "Deltek Systems," but the next customer didn't come until 13 months later, in May 2002. The third came in July 2002. Each of these customers paid about US$100 per month on average, barely helping our financial situation, but they provided hope that there was a market opportunity. Furthermore, the long delays between the early customers provided ample opportunity to survey software vendors and perform additional market research regarding optimal pricing models.
Trying a New Approach
The key decision was whether to charge fixed fees or some form of a pay-per-action model. Fixed fees were the industry norm and guaranteed a certain level of revenue per customer, but would force Capterra to rely on price increases in order to be rewarded for increasing the number of software buyers that the vendors reached. The pay-per-action model solved this issue, but would transfer significant risk to Capterra — users might not interact with the vendors' listings.
Most media companies prefer not to assume this risk and simply charge according to the number of times an advertisement is delivered, known as "CPM" (cost per mille), as opposed to the number of times a buyer interacts with an ad. Though risky, we decided that Capterra would go the pay-per-action route.
More specifically, we would try a new and innovative approach known as the "pay-per-click model" — made popular by GoTo, later known as "Overture" before being acquired by Yahoo. Vendors would pay only when a Capterra user clicked through to their Web site.
Paying Off Debt, Buying Office Space
The pay-per-click model was a big hit with the vendors. In September 2002, Capterra's 35th month, four software vendors signed up and, from that point on, things grew quickly. Capterra was finally attracting enough software buyers that software vendors started to pay attention. Almost 50 vendors were on board as paying customers by the end of 2002! One of the key success factors was the hands-on approach toward helping vendors properly monitor their Web visitors from Capterra and then convert those visitors into leads.
Once vendors understood the impact that their own Web design had on their ability to convert visitors into leads and how to track these leads, they quickly became our biggest fans.
By the spring of 2003, we were breaking even and, in June of 2004, I paid off the final credit card debt, which had reached about a quarter-million dollars. Finally exiting startup mode, we started hiring and moved out of my basement and into office space in Arlington, Va., in 2005. I wanted to maintain the casual and open work environment, including lack of a dress code, no cubicles or closed offices, among other things.
An Uncommon Feat
Today, more than 2 million software buyers use Capterra each year and there are more than 1,000 software companies paying to reach these buyers. After growing revenue 633 percent from the years 2003 through 2006, Capterra was named to Inc. magazine's 2007 ranking of the 500 fastest-growing private U.S. companies. All of this was accomplished without a penny of venture capital, an uncommon feat in the information technology field.
We continue to innovate and expand our reach, constantly adding more online tools and resources to help people find the right software. CapterraConnect debuted in June 2007, and allows buyers to quickly filter their software options by selecting features important to them. This has helped to make the process of identifying software alternatives easier and faster. Future plans include tools to encourage peers making similar software decisions to connect with one another.
I absolutely love our mission. Software makes companies — whether they are for-profit or nonprofit, large or small — more efficient at what they do. Plus, we help them find the right software, specific to their business needs. So, essentially we help organizations of all kinds do whatever it is that they do better. This makes it easy for me — and I like to think everyone at Capterra — to remain passionate about coming to work every day.
---
Michael Ortner
is president of
Capterra
, an online destination for business software buyers. The company guides people through the process of selecting the right software and allows vendors to drive online traffic and generate sales leads.
---