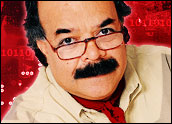 With disturbing frequency, big corporations' reputations are going down the drain. Often, the root cause is that top people are caught with their hands in the cookie jar. A corporate image that took decades to build now stands like a crumbled ruin, in smoke and beyond repair. The same story is repeated again and again.
Former CEO Martha Stewart is just a small fry in this jungle of deceptive maneuvers. Enron, WorldCom, Adelphia, Tyco and Parmalat are the true heavyweights of corporate scandal, with losses totaling some trillion dollars.
Indeed, Stewart's is a great American story of a corporate Cinderella who simply miscalculated the mood of the public past the midnight hour. By the time the clock struck twelve, the bitter commoners were ready to revolt and had no patience for any slippery issues. There appears to be no happily ever after to this fairy tale.
The laws of corporate image and name identities clearly point to a total collapse of the Martha Stewart Omnimedia value proposition, barring a sudden reversal of the court's guilty verdict along with an apology from the court. Omnimedia minus Martha is just another media company, after all.
The outcome of the Stewart case will now be left for historians to talk about, as consumers have a very short memory. Maybe that's how we survive and continue to place our trust in corporate entites. "Enron who?" we ask ourselves.
However, some good may come from all this. The misfortunes of scandal-plagued companies have led to a turnaround of sorts: All signs now point to a revival and return to true honesty in big business.
The Corporate Crystal Palace
This shift of focus seems unavoidable. The images of big corporations have to change, as the public perception has evolved from "big is bad" to "big is corrupt." A half-century of brilliant corporate communications and good public affairs responsible for building the big corporate images is about to be erased, unless new stringency in corporate image maintenance arises.
After all, corporate image is like a crystal palace, delicate and fragile. It can't have stones thrown at it. Image is not a fortress that you can attack again and again and expect that it will survive. Instead, image rests in the subconscious minds of customers and shareholders.
This is a sacred place, accessible only through subtle messages and a solid track record that slowly build into respectability, confidence and trust in a particular corporation. One mistake and these images are shattered like broken glass, never to be repaired again. For this reason alone, nasty scandals can kill corporate images once and for all. Band-aid fixes and branding blitzes only prolong the agony.
Small-Business Engine
Fortunately, the implosion of several big corporations is not the whole story. The true engine of global commerce is still the small to medium business sector, which hums along and keeps economies going even as big companies are bailing out of disastrous situations.
In fact, small and mid-size businesses deserve credit for having to work extra hard to build their images in the dark shadows cast by collapsing giants. Sober images, with corporate names that clearly define a company's set goals, are in vogue now. Conversely, casual branding without focus only creates more doubts in the minds of both shareholders and customers.
There is a new and a very powerful undercurrent of e-commerce, bolstered by due diligence and better ethics, ready to emerge with the brand-new icons of the future. Practitioners of corporate image and global branding should take notice and acknowledge that image is like a house of cards — its frailty makes it powerful, its clarity and pristine structures appeal to the masses, and its vulnerability makes it valuable. Therefore, it must be built slowly, wisely, correctly and delicately, without any room for errors.
---
Naseem Javed
, author of
Naming for Power
and also
Domain Wars
, is recognized as a world authority on global Name Identities and Domain Issues. He introduced The Laws of Corporate Naming in the eighties and also founded
ABC Namebank
, a consultancy he established in New York & Toronto a quarter-century ago. He can be reached at
[email protected]
.
---