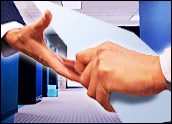 Trying to avert a trans-Atlantic trade war over government subsidies to Airbus, U.S. and European negotiators found little to agree on yesterday during a five-hour meeting in Brussels, Belgium.
"We had a useful and frank discussion," John Veroneau, general counsel to the U.S. trade representative and the lead U.S. negotiator, said during a conference call with reporters following the meeting.
The Bush administration and the Boeing have demanded a 12-year-old treaty with the Europeans be scrapped and a new one negotiated that eliminates the Airbus subsidies.
The Europeans have countered that Boeing is receiving U.S. government subsidies through its defense contracts and that Washington state provided US$3.2 billion in tax breaks and other subsidies for Boeing's Everett, Washington, plant, where the new 7E7 airliner will be built.
No Timetable
Veroneau said the two sides could not agree on ending subsidies or even a definition of what constitutes a subsidy.
"The [European] Commission did not accept our goal of ending subsidies at this time," Veroneau said.
There was also no agreement on a timetable for future discussions, though U.S. Trade Representative Robert Zoellick and Pascal Lamy, the top European trade official, will discuss the issue at the end of the month in Washington, D.C., Veroneau said.
One topic that did come up during the talks was the Washington state tax breaks.
"It's an issue we see somewhat differently," Veroneau said, declining to elaborate.
European officials said they were not opposed to renegotiating the 1992 treaty, but only if U.S. government support for Boeing was also on the table.
Possible WTO Case
Restating a White House threat, Veroneau said that if the Europeans failed to negotiate, the United States would consider taking an Airbus subsidy case to the World Trade Organization, which arbitrates international trade disputes.
"The status quo is not acceptable," he said. "We need to negotiate a new agreement or look at our other options, including the WTO."
Veroneau said if the United States did turn to the WTO, the Europeans likely would retaliate with their own case.
The 1992 treaty allowed European governments to provide Airbus with about one-third of the money it needed to launch a new aircraft, though the subsidy was supposed to decline over time. The treaty was negotiated at a time when Boeing was the dominant manufacturer of commercial airplanes, but Airbus has now outpaced Boeing.
Boeing has said that about one-third of the $13 billion Airbus has spent developing its new 555-seat superjumbo A-380 airliner was provided by European governments.
Defense Contracts
The White House and Boeing are seeking an end to any future Airbus subsidies, particularly for a possible Airbus competitor for the new 7E7 Dreamliner.
The Europeans, however, believe "overpriced" defense contracts have provided billions of dollars in indirect subsidies to Boeing.
They say the real issue is Boeing's declining competitiveness in commercial airplane markets.
Boeing also is unhappy.
In a statement, the company said the issue of government subsidies was "straightforward" and the dispute could be resolved easily if the Europeans were serious.
Sen. Patty Murray, D-Washington, stepped up her criticism yesterday of Airbus subsidies during a speech before about 800 Boeing suppliers in Washington, D.C.
Antidumping Laws
In addition to pursuing a possible WTO case, Murray suggested the United States could hold Europeans accountable by filing a challenge against Airbus using U.S. antidumping laws. Those laws prohibit a foreign manufacturer from selling its goods at below cost in the United States in an effort to build market share.
Murray also defended the Washington state incentive package Boeing had received for its 7E7 plant, saying Airbus received a similar package from Mississippi when it built a plant there.