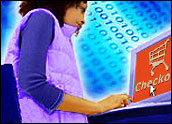 Transaction failures at a company's Web site can have a significant negative impact on the business' brand, according to a survey released Monday by TeaLeaf Technology and Harris Interactive.
"Transaction failures on a company's Web site create such a bad impression in the eyes of consumers that just one troublesome issue can cause irreparable harm to a company's brand," the survey said.
"An astounding 91 percent of online consumers who experienced any type of problem when conducting an online transaction said they are at least somewhat likely to question the ability of a company to keep their private data secure if they encounter an online issue," it continued.
Severe Implications
Since the surveyors found that Web site security and ease of completing a transaction were the top two factors contributing to a positive customer experience online, they concluded that any type of problem with those factors would have the potential to negatively impact the trusted relationship between the consumer and the Web site, with severe implications for the brand.
"People are concerned when they see transaction problems," maintained Geoff Galat, vice president for marketing product strategy for TeaLeaf Technology, a San Francisco-based provider of online customer experience management solutions.
"They're saying to themselves, 'If they can't handle something as simple as this, how in the world are they going to protect my personal information?'" he told the E-Commerce Times.
"That's a major factor why people abandon [transactions] or go elsewhere when they have a problem," he continued. "They just don't trust the site any more. In a world where trust is a big thing for branding, that's an important data point."
Brand image is closely tied with the experience that a consumer has with a business, added Cliff Hopkins, senior director of marketing for PayPal Merchant Services.
"Anything that detracts from a customer's shopping experience on a merchant's Web site will detract from that merchant's brand association in the mind of the customer," he told the E-Commerce Times.
Customers expect to get in and out of a site expeditiously, explained Rick Broadhead, a principal in Rick Broadhead and Associates and an author whose work includes Dear Valued Customer: You Are A Loser.
"If they don't get that, they'll remember it, and it will damage your brand," he told the E-Commerce Times. "There's no question that it damages your brand and your reputation, and word of that negative experience is likely to be passed on to other customers.
"Word gets around," he added, "and it gets around faster online because of the viral nature of the Internet."
Unaware of Damage
Many businesses aren't aware their brands are being damaged online, according to Broadhead.
"They don't pay attention to the Web metrics," he declared. "Often the people that have that data don't pass it along, or don't pass it along in a format that can be understood by someone who is not a technical person."
The study also revealed that 40 percent of customers who encounter a transaction snafu either abandon the transaction entirely or turn to a competitor.
Moreover, the survey — which focused on consumer online transaction experiences at shopping, banking, travel and insurance Web sites — found that almost nine out of 10 customers (88 percent) experienced transaction problems. The surveyors projected that such problems have the potential to affect 4.5 percent of all online transactions.
"The rate of failure is very high, and the impact on business is very high when a third of its customers is switching away to competitors," noted Galat.
Consumers Demanding More
Consumers are demanding more from online merchants now than in the past, he added. When this survey was conducted last year, he explained, 82 percent of the respondents said they expected their online shopping experience to be the same as their offline experience. This year, that figure climbed to 85 percent.
"That shows a maturing of the online customer's expectations," Galat maintained.
"That's different from the way a lot of online businesses view the customer," he continued. "A lot of e-businesses take the perspective that the customers are willing to tolerate failure once in a while because it's the Web, and it's new.
"The reality is, it's not new anymore, and customers … want to get done what they want to get done," Galat concluded.