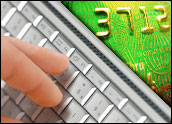 Social networking is popular on the Web. So is shopping. Imagine, then, the potential of Net shops that combine the two into a package called "social shopping."
Until recently, most designers of e-commerce sites have concentrated on catering to individual shoppers — what the research firm Gartner calls the "solo hunter."
Now, however, a new breed of online shopper — the "social gatherer" — is emerging who is looking for more interaction with people when they shop, Gartner revealed in a report released Tuesday.
Money Left on Table
"Online vendors of goods and services that ignore the social dimension, as exemplified by the 'social gatherer' archetype, are ignoring a potentially large revenue component," said the report.
"These vendors are, in a substantial sense, 'leaving money on the table,'" the report added.
It noted that for social shoppers, the journey can be more important than the destination. "Social shoppers seek not just artifacts or information for future use but also an enhanced emotional connection to other participants in the shopping experience," it explained.
Tale of Two Shoe Shoppers
"Despite a seeming lack of preoccupation with purchasing a particular item," the report continued, "it is possible that the total transaction amount in a social-shopping journey will exceed that of a solo foray; therefore, e-commerce vendors that ignore this dimension are leaving money on the table."
A solo hunter shopping for a pair of shoes just buys a pair of shoes, explained the author of the report, analyst Ray Valdes. A social gatherer shopping for shoes, on the other hand, may never buy them, but they'll spend two or three times the amount the solo shoppers spend on items they had no initial intention of buying.
"There's a large opportunity here for e-commerce vendors who can address that style of shopping," he told the E-Commerce Times.
One reason for the success of powerhouses like Amazon and eBay, he said, is that they incorporated elements of social shopping early in their development — elements like user ratings and reviews.
The trend is hampered by current technology, Valdes asserted. "The limitations of technology on the Web today allow only indirect support for social shopping," he maintained. "The technology platform needs to evolve for more direct support in a more integrated manner."
Immersive Environments
What's that technology platform likely to look like? It will very likely look like the immersive virtual environment in Second Life.
"Immersive virtual environments have an advantage in supporting peer-to-peer interaction across multiple vendor locations and in enabling spontaneous human social engagement at varying levels of intimacy, allowing collaborative purchases to occur," the Gartner report explained.
An online virtual environment can both mirror and augment shopping in the real world, observed Alyssa LaRoche, president of Aimee Weber Studios, a design firm.
"You can both be sitting there shopping, but you don't have to ever leave your house," she said. "You can still have all the benefits of socializing with someone throughout that experience."
Explosive Growth
The word about social shopping has begun to resonate among online consumers, according to Manish Chandra, CEO of Kaboodle, a social shopping site.
In the last six months, he said, Kaboodle has seen a tenfold growth in unique visitors, from 100,000 in October 2006 to more than one million in March 2007.
"The shopping season last year really triggered our growth, and we've seen that explosive growth continuing," he told the E-Commerce Times.
The fastest growing sales on the Web, he noted, were in categories where taste and style — the mother's milk of social shopping — are just as important as price in determining a shopper's behavior.
"The shopping experience is quite primitive in those categories, and that's what's leading to the adoption of social shopping," he opined.
Doesn't Have a Future?
Social shopping could prove to be a disruptive technology for e-commerce, the Gartner report cautioned, a view not shared by David Galbraith, founder of the social shopping site Wists.com.
"In its current iteration, social shopping doesn't have a future," he told the E-Commerce Times.
Social shopping's appeal, as he sees it, is limited to niche markets and small-time vendors.
"Social shopping has a future for smaller vendors, but not for established brands," he said.