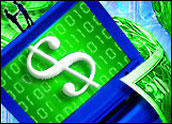 Somewhere between no-frills Craigslist and intricate eBay lies the new e-commerce offering introduced by Santa Monica, Calif.-based TagWorld last week.
TagWorld, a high-energy social networking space launched last November, is combining the new service of free online classifieds, which includes images and personalized storefronts, with auction features.
The service adds a new word to the wired community's lexicon: "social commerce."
Haggling Allowed
TagWorld members can post items for sale in the new classifieds section, which can be searched by tag — similar to a subject or catagory, keyword or zip code radius. Multiple images of an item can be included with the ad, as well as a payment model. Sellers can choose a fixed price or mark the item negotiable — which allows buyers and sellers to haggle over a price.
PayPal is integrated into the site to make paying for items easier.
Items appearing in the classifieds can also appear in storefronts that members can incorporate into their personal Web pages.
Storefronts Without Hassles
"We're the first social site to allow people to actually put items on their Web site without any hassles," TagWorld President Evan Rifkin told the E-Commerce Times.
"If you go to Craigslist, they have a classified section, if you go to MySpace you can post a link, but this allows you to drag and drop a store onto my Web site," he explained.
The new service's ease of use and the fact that it's free should make it attractive to people who want to sell items on the Internet but don't have an ambition to be a Power Seller on eBay.
Merchants With Personality
"How many people have bought something on eBay?" Rifkin asked rhetorically. "Quite a few. But how many people have sold stuff? That number is probably drastically different.
"The reason is that it is kind of complicated to sell something on eBay," he continued. "It's not really easy."
TagWorld's storefronts have another advantage over doing business on eBay, Rifkin contended. They give a seller a personality because they're connected to a personal Web site.
"It's more of a community-driven sale than would be experienced on eBay," he said. "It's real peer-to-peer selling."
Attracting Attention
TagWorld's social commerce endeavor is another move to differentiate itself in a social networking market dominated by MySpace, according to Debra Aho Williamson, a senior analyst with eMarketer in Seattle.
"TagWorld is much, much smaller than MySpace," she told the E-Commerce Times, "so it clearly needs something to attract attention."
MySpace has some 56 million members; TagWorld, 787,000.
"They're going after Craigslist and eBay," Williamson observed. "The question will be volume. Craigslist has volume. The same with eBay. TagWorld is going to have to see if its current users are interested in this and if it will draw new users to its space."
Building Stickiness
Moreover, when it comes to ease of use, it doesn't get much simpler or cheaper than Craigslist, she added. "My husband put up a set of car wheels and got five people in two days saying they were interested in them," she said.
Troy Young, vice president of Organic, an online marketing firm with offices in San Francisco and New York, reasoned that TagWorld's latest e-commerce move is a natural extension of its community.
"One of the ways to increase the stickiness of a community is by surrounding users with the tools and features that make them want to stick around," he told the E-Commerce Times.
Atomizing Media
"If you think of integrating communication devices into a community — as MySpace is doing with its new cell phone — and extending commerce into a community, it makes them a more compelling long-term proposition for the user," he added.
Communities like TagWorld are part of a broader social trend, he postulated. "The media world is being reoriented around the individual," he said. "Individuals can not only publish now, but they can monetize, too."
"Blogging gave individuals a voice," he declared. "AdSense gave them pocket money. Both of them are spurring this wave of innovation that's atomizing the media."