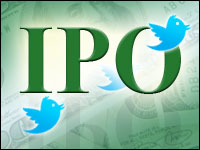 After setting its IPO stock price at US$26 per share, Twitter on Thursday made a strong public debut in which trading opened at $45.10 per share — 73 percent above the IPO price.
That opening price valued the social media company at more than $31 billion based on its outstanding stock, options and restricted stock that will be available after the IPO. By press time, the stock had traded at a high of $50.09.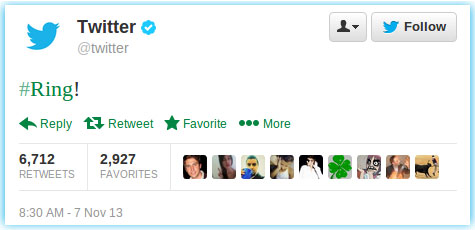 The initial public offering included 70 million shares of the common stock, sold under the ticker symbol "TWTR," but Twitter has also granted the underwriters a 30-day option to purchase up to 10,500,000 additional shares of common stock. Goldman, Sachs & Co., Morgan Stanley, J.P. Morgan, BofA Merrill Lynch and Deutsche Bank Securities have acted as the book runners for the offering.
Heavy Trading
By mid-day about 82 million shares of Twitter stock had exchanged hands, which is notable in that the number exceeds the 70 million shares issued considerably. Of course, it is the most highly anticipated IPO since Facebook's last year, and unlike that one — which saw prices fall below the IPO price — Twitter seems to holding its gains.
"There's an abundance of enthusiasm for Twitter, the Street's new tech darling, and Twitter deserves its time in the sun," Josh Crandall, principal analyst at NetPop Research, told the E-Commerce Times. "It's thwarted competitive threats from Facebook, held onto a loyal following and connected with media in ways no other social platform has been able to achieve."
Twitter has always been about saying more with less. Its business model is built around 140-character tweets, and the company did not opt to flood the market with stock.
"Because Twitter released a comparatively small number of shares, there was more demand than supply," Greg Sterling, principal analyst at Sterling Market Intelligence, told the E-Commerce Times. "That has helped push Twitter higher."
'Less Profitable Than Facebook'
That's not to say the company couldn't still face an uphill climb, however. After all, Facebook may not have wowed investors with its IPO, but the social network had long been profitable before it went public.
Twitter, on the other hand, has yet to turn a profit, and that could be a concern for investors.
"It's less profitable than Facebook was, because at least Facebook ad PPC advertising generate $22 billion," Lon Safko, an author, social media consultant and entrepreneur, told the E-Commerce Times. "Twitter has none of that.
"The dilution has to be astounding," Safko added. "They have been operating for the last six years solely on venture capital. The IPO was more about finding liquidity for the VC investors than anything."
In addition, as with Facebook, "there has already been a lot of talk about 'insider' trading and positioning of stock before today's IPO," he pointed out.
"It's going to go exactly like Facebook did," Safko predicted. "It will spike by the end of the day today. Then tomorrow, the shares will stabilize and the shareholders are going to begin to demand share value, dividends and a comprehensive plan to get a multiple return on their share investment."
A Bumpy Road
Twitter has attracted 230 million users since it launched seven years ago, yet according to a recent poll by Reuters/Ipsos, more than a third of its registered users do not use the service at all. However, the company has opted to expand, perhaps most notably with its acquisition of microvideo service Vine earlier this year.
That may help garner more press, "but the reality is that Twitter user growth has plateaued in the United States, and only one in 10 regularly use the service," added Crandall. "It's hard to imagine that going public will change their growth trajectory, and investors will likely ask hard questions when quarterly reporting begins."
Twitter is "here to stay for a while," he concluded, "but the road ahead will likely be bumpy for a while."
Investors, however, may look past such concerns — at least in the short term.
"Twitter is perceived, notwithstanding the caveats about profitability and growth, to be another rare opportunity for investors," Sterling said. "Twitter will continue to show usage and revenue growth."
The question now, Sterling cautioned, "is whether it can generate growth commensurate with the huge valuation and at rates that will satisfy investors."