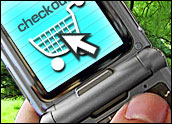 Although it seems there is an app for everything nowadays, new research indicates mobile shopping is one area in which consumers prefer retailers' websites over dedicated smartphone apps.
Although the recent Nielsen report found users generally spend more time with mobile apps rather than sites, the process can turn off some consumers, according to John Burbank, president of strategic initiatives at Nielsen.
"Going the app route involves more steps — going to the app store, downloading the app, etc.," he said.
"This may have been a barrier to usage, particularly among new users of smartphones," Burbank adds. About 44 percent of U.S. mobile subscribers own a smartphone, with 22 percent of domestic mobile phone owners reporting they had used their device to recently buy an item, according to Nielsen.
"A lot of consumers aren't crazy about downloading all these apps," Jeffrey Grau, principal e-commerce analyst at eMarketer, told the E-Commerce Times. Often, consumers will download just one app that compares items offered by several retailers. In 2010, eBay acquired RedLaser, the maker of an app allowing smartphone owners to scan a product's barcode and compare prices elsewhere.
The Shopping Masses
After surveying 5,000 volunteers during the 2011 holiday season, Nielsen found men were slightly more willing to try a retailer's app. By comparison, women helped boost Target and Walmart into the top five retailers for smartphone owners.
Amazon, which attracted both men and women, was deemed the most popular retail mobile website in 2011, Nielsen said. Best Buy, a haven for gadget lovers, tended to attract more men. Best Buy shoppers are also more apt to use an app because tech items are easy to compare, Grau said.
Target and Walmart trended more toward women, while eBay joined Amazon as attracting both genders, according to the research.
"The majority of smartphone owners used their devices for shopping this past holiday season," Burbank said. However, the gap between apps and retail websites may not last as more people join the ranks of smartphone owners, he added. The line between apps and websites could also be due to shoppers searching online. An online search is more likely to offer links to retailers' websites, while more directed shoppers will use apps, he said.
Another potential reason why smartphone shoppers prefer websites over apps can be found in Nielsen's report on digital habits. The use of browsers on mobile phones tops the use of functions like social-networking apps and music-video apps.
Retailer Insights
For retailers, the research carried multiple messages. While smartphone traffic to the top five retailers rose during the days leading up to and following Black Friday, the holiday "bump" in smartphone traffic was back to October 2011 levels by January.
"Retailers need to think of their business as a multi-channel environment that can potentially include mobile, online, and bricks-and-mortar stores," Burbank said. The winning formula is presenting a "consistent experience" for shoppers, he said.
Companies should not devote all of their resources to either apps or their websites. Instead, both avenues of selling should be targeted. Apps are most useful in retaining loyal customers, while it makes sense to also retain your website, Grau said.
On a related matter, a third of mobile shoppers said they are willing to provide their location if retailers provide useful data, according to Nielsen. As for what ads can best attract consumer attention, video and interactivity rank high on the list.
More than a fourth of the participants in Nielsen's survey reported they would find ads with "interesting" video attractive, while 20 percent of the survey commented they would like ads that included interactive features.