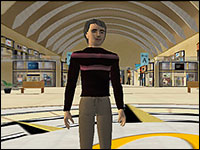 Shopping has traditionally involved an element of seeing, touching and feeling a product before buying. Shopping online, however, hasn't ever quite replicated that experience. That is, until now.
With the advent of 3D technologies, online shopping is on the verge of a radical transformation.
Going to the Virtual Mall
One new development is the 3D shopping mall. Companies like VirtualE, with its VirtualEshopping.com, are operating and licensing electronic malls to give online shoppers the sense of actually being there.
VirtualEshopping.com's e-malls require users to download software, which then lets them create a shopping avatar, wander through a 3D electronic mall space, and even meet up with friends while shopping.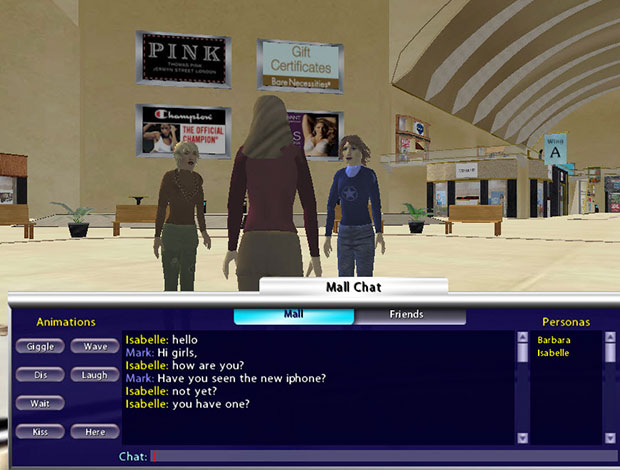 Malls, after all, have always been as much about social interaction and people-watching as they've been about shopping. New digital versions of shopping malls, therefore, are integrating social media along with a 3D experience to replicate the feeling of being in a mall.
"If what you're looking for is close to the mall experience — chatting with friends, stumbling upon stores — you'll find it in our malls," explained Mark Stein, the CEO of VirtualE. "A person in Maine could meet a friend from Washington, and chat, people-watch — anything you would do in a regular mall."
Why shop in 3D instead of 2D? Essentially, it's more fun.
"It makes for a more dynamic experience," said Stein. "I compare it to the transition from black and white to color TV. Once color was possible, why would you want black and white?"
Beyond the Mall
The ZeDDD Group is working on similar projects, with what it calls "z3D" technology.
"ZeDDD is working with a number of companies around the world to set up z3D malls and shops," ZeDDD spokesperson Michael Hodges explained to the E-Commerce Times. "ZeDDD can provide a customized or template z3D application. The z3D Shop application is free for anyone to download and set up their z3D shop."
Shops set up with his company's software can be linked with other virtual spaces, noted Hodges.
"The great feature with the z3D shop is that it can be linked easily to other zones, to create any configuration from a large z3D department store to a virtual city with z3D streets and z3D malls," he said. "ZeDDD hopes to provide a number of z3D applications such as z3D Malls, z3D Shops, z3D Tourism, z3D Trade shows and z3D Social Networks, [and] these will eventually include avatars and virtual homes."
These 3D shops, because of the unique experience they offer, have the potential to attract new and varied customers.
"Generally, z3D shops have the capacity to attract new customers because of their novelty, compared to 2D websites," said Hodges. "Shopping malls attract loads of customers because they provide a level of entertainment. z3D malls can attract customers in the same way — they can provide a sense of exploration and entertainment, especially with the avatars."
3D also offers branding opportunities simply not possible in 2D, Hodges argued.
"Branding is often more than just a sign," he said. "It can include the style and color of a shop interior. z3D Shops provide more capacity to reflect the overall brand and sub-branding, as you would expect in the real-world shops."
In addition, the structure of 3D shops lets retailers use some of the sales tactics that have been developed in the physical shopping world.
"Real world shopping has developed a whole science around behaviors of shoppers, which can be emulated in z3D shopping, such as 'stack them high and watch them fly,'" explained Hodges. "A display bin stacked high with the same product can make customers perceive value."
Getting It Out There
In order to sell in 3D, businesses need to create digital 3D versions of their products, and companies like Creative Dimension Software, with its 3DSOM Pro software, offer a way to do just that. 3DSOM Pro translates a series of digital photos into a 3D image that can be rotated, manipulated and viewed from any angle online.
"Interactive 3D images are the next best thing to actually holding an object in your hand," Adam Baumberg, director of Creative Dimension Software, explained to the E-Commerce Times. "We have found that end-users really appreciate being able to smoothly rotate and interact with 3D models online."
The company's software has been used by retailers, museums and educational institutions to display items virtually.
"Our technology provides great opportunities in e-commerce for designer items, toys and fashion as end customers really appreciate being able to examine these items closely in a fun and engaging way," said Baumberg.
"3D offers the consumer the ability to really engage with the object as if they are holding it in their hand," he added. "They can turn the object round see what it looks like from any angle, quickly zoom in to see the details, and get a much better understanding of what the actual object really is like."
In return, these 3D images can translate into more interest in a company's products and, potentially, more sales.
"Interactive 3D content can make a website really stand out from the crowd and for e-commerce can drive sales and minimize costly product returns," explained Baumberg. "We see 3D images as an important communication tool that can enhance the user experience."