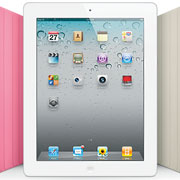 Tablet commerce may be the new kid on the block when it comes to online retail, but as a recent Forrester research poll indicates, many online retailers are seeing that half of their mobile commerce transactions come from tablet devices.
Moreover, 7.6 percent of the U.S. population will be tablet users by the end of 2012, according to eMarketer estimates. So how should online retailers take advantage of tablet commerce? And should they do so right now?
It Starts With Your Existing Site
The key to implementing a successful tablet commerce (t-commerce) strategy starts with a retailer's existing desktop site. Customers are already shopping with their tablets on traditional retail websites — but sites that were not designed for tablets may run into issues.
User interface elements that proved successful on the desktop may not work on a tablet. For example, mega-dropdowns and mouse "hover" behaviors do not translate well to a finger-based browsing experience: Users don't generally drag their finger around the screen looking for hotspots.
Users Deserve a Tablet-Optimized Site
Tablets are different from mobile devices and should be treated accordingly. A troubling early development in t-commerce had a number of retailers redirecting tablet users to their mobile-optimized sites. This was a mistake, and is largely being replaced with retailers deploying tablet-optimized experiences.
There is a huge difference in screen real estate between tablets and mobile, and a t-commerce site should therefore have more in common with a traditional e-commerce site than an m-commerce one. The fact that many mobile sites were delivered first means that many retailers are not taking advantage of the larger screen real estate that is available on a tablet.
The t-commerce site should still maintain a sleek user interface while delivering substantially more information than an m-commerce site. As with mobile, the quality of content delivered must be commensurate with the quality of information on the company's e-commerce site so that the user experience is consistent.
Moreover, the interface of a tablet is different than that of a desktop site. On a tablet, one doesn't track clicks and mouse trails, but instead must focus on "smudges and swipes." Multitouch functionality should be integrated into the site in appropriate areas, including 360-degree product photography spins and swiping through long product lists.
HTML5 Enables Rich Interactions
Technological developments have opened up possibilities that did not exist years ago. HTML5 offers site developers the ability to create superior, smooth user experiences, and it enables other must-haves for tablet sites, such as auto-suggest search bars and one-page checkouts.
At the same time, these technological advancements can pose significant challenges to retailers looking to develop a tablet initiative. For example, it is widely accepted that Apple and its iPad are dominant in the tablet ecosystem.
As a number of retail sites still use Flash for certain interactions (which Apple does not support), the necessary migration toward the use of HTML5 technology can mean extra costs and delays.
It's Not Just the iPad
Another factor to keep in mind for a tablet initiative is that even though the iPad is the dominant player in the industry, there are many other tablets, including the Samsung Galaxy, RIM PlayBook, Motorola Xoom, and others that run on Google's Android platform.
While they comprise a relatively small segment of the market, these other tablets certainly warrant additional cross-device testing of a retailer's website to ensure compatibility.
Establish Goals and Watch the Analytics
As with all digital initiatives, analytics should be watched closely. Retailers must monitor the conversion success of their websites with tablet users, finding areas that under- or over-perform relative to their desktop-based shoppers.
Do your tablet users browse more then they search? Is this different behavior than desktop users? Just like on the desktop, testing is key. Retailers should experiment with multiple shopping experiences, allowing consumer usage patterns to shape the future of their tablet offerings.
It is also important to establish revenue goals for a tablet initiative. Tablets, despite the huge boom in recent popularity, may not yet be ubiquitous enough to warrant a huge initiative for all retailers.
Adoption of tablets is expected to increase 400 percent by 2012, based on eMarketer estimates, but it is important to keep in mind that this is a global statistic for a niche market.
Some may feel the need to be there first, others may want to wait and see. What is certain is that t-commerce is rapidly growing, and it must be considered an important piece of any online retailer's digital strategy.
Happy swiping!