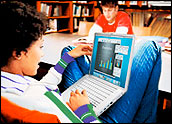 This story was originally published on Aug. 6, 2008, and is brought to you today as part of our Best of ECT News series.
It's no fun shopping alone. That's the theory behind social shopping, a trend that combines social networking with e-commerce. It's a trend that's coming into its own as increasing numbers of online shoppers turn to the sites for fun, companionship, and camaraderie with other shoppers.
"Shopping is a very social, interactive experience," Manish Chandra, the CEO and cofounder of social shopping site Kaboodle, told the E-Commerce Times. "Shopping is not just a transactional experience."
Social shopping sites attempt to create an online experience that replicates, to a degree, going to the mall with a group of friends. In the stereotypical mall experience, friends point out products to each other, comment on them, and share stories — all the while bonding as much as they're actually shopping. Online social shopping sites aim to give shoppers a similarly interactive, personal and communal experience.
"It's like going shopping with a friend versus going alone," Chris Kensler, editorial director for social shopping site Stylehive, told the E-Commerce Times. "You get to bounce ideas off of each other and get new ideas. It's the kind of discovery that comes from shopping in a group that makes the site work."
Kit and Kaboodle
The self-proclaimed first and largest social shopping site, Kaboodle, which was founded in 2005, attracts 8 million monthly visitors, as well as a half million registered users who have created links to 4 million products.
"Our social shopping site is a dynamic, ever-changing shopping magazine that's edited by hundreds of users," Chandra said of Kaboodle. "We're a very active community and offer a large variety of social shopping tools."
Kaboodle users create profiles, compile lists, upload photos, and link to products they've bought or want to buy. They can even invite others to vote on which outfits or products they should buy.
"It's a very powerful, broad set of features," Chandra said.
Owned by the Hearst Corporation, Kaboodle is also venturing into partnerships with more traditional Hearst-owned media, such as a back-to-school project in conjunction with Seventeen magazine.
Social Shopping Celebrities
Some social shopping sites, like ThisNext and StyleHive, focus on helping users make themselves into trend-setting "celebrities," complete with fans who follow their every move, including their purchasing decisions.
"Our most prolific and expert members are named 'Mavens,'" ThisNext President Scott Morrow the told E-Commerce Times. "The people who recommend the most are driven by status and recognition."
The Maven program recreates a kind of "popularity" effect: If a certain person wants or recommends something, consumers who look up to that individual are likely to want the same thing. The celebrity status earned by the Mavens gives them self-esteem and thus prompts them to continue recommending items. It also encourages others to get involved in the process, so they, too, can become Mavens.
"There's a real healthy competition that goes on to be the most influential people," Morrow said.
StyleHive's site has similar capabilities, letting users follow other users and their tastes, ideas and purchases. The goal is to develop a "shopping personality" that others will want to follow.
"Once you get a shopping personality going, you'll develop a following," Kensler said, noting that the site's top user right now has about 12,000 followers. "You become known and famous within Stylehive."
Social Selling
The appeal of social shopping for the shoppers themselves might be clear, but what's in it for retailers?
In short, if shoppers are happy and enjoying themselves, they're more likely to buy goods. And as shoppers flock to these sites, retailers are watching the traffic — and the business — flow from them. Some retailers have even decided to create a presence on the sites themselves, often through a formal partnership with the social shopping company.
"You're where the action is," Kensler said of the retailers that partner with his site. "Stylehive isn't where the final decision to buy something is made. It's the starting point — and to be where decisions begin is important to retailers."
Voice of the People
Ultimately, the user-generated content model that is the basis for these social shopping sites is bringing about a new, more democratic, model for how fashion is determined, arbitrated and disseminated.
"It used to be the magazines telling you what to wear," Kensler said. "Then it was the celebrities. Now it's the next wave. It's getting into personal fashion that you create yourself through these communities."