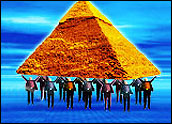 The world of online business communication has introduced two industry-changing elements for small business: more customers and more competitors. Circa 1999, you were ahead of the competition by simply having a Web site to preview your service or products. By 2004, Web transactions were the norm, and convenience was the king.
Now both those previous core competencies have become expected norms, with social interaction, immediate consumer feedback, and a live and evolving social network and Web presence the new differentiators for cutting-edge online small business best practices.
Advantages of an active social presence include increased user interaction, higher market penetration, optimized advertising revenue, and multiplied audience visibility, to name a few opportunities. Unfortunately, for most small businesses, the options for developing online visibility are diverse and intimidating: How do we design a Web site? Do we need a blog? What is RSS (really simple syndication)? How do we keep users informed with RSS? What if we want to add widgets? How do we protect the privacy of our users?
Facebook and MySpace are the first two names that jump out, given their mass-market appeal and reputation, but they are poorly designed for business needs. There are alternative, less known companies who are developing social publishing platforms and are more specifically addressing the needs of organization and businesses looking for simple, low-maintenance and integrated solutions.
Important Elements
Ideally, small businesses should be able to find one-stop-shop solutions to build a social platform that is scalable with their business. Some elements to consider when deciding on a social publishing site to use include:
Create original content. First and foremost, you should be able to create original content in various formats: create a blog, upload photos, videos or presentation files.
Aggregate content. It is important to be able to retrieve contents from external sites through easy modules or widgets: This could include pulling photos from Flickr, videos from YouTube and RSS feed from your industry-specific newspaper.
Facilitate user interaction. You should be able to choose the degree of interaction you want between your small business and customers. Do they have to register to access your content, can they leave a comment, discuss something on a message board, or submit their own photos?
Maintenance and Functionality
Beyond content creation and interaction with users, you should assess the maintenance requirements: Having a smart selection of third-party content could mean that you can afford to refresh your own content less often. Another important criteria is the ease of use for nontechnical users. In frequent cases, the initial set-up can be done by a webmaster or a designer, but it is more efficient if several people in the organization, especially nontechnical personnel, are empowered to upload fresh content and interact with users.
Finally, does the platform offer functionalities specific to the nature of your business? Do you need e-commerce functionalities, high-resolution images display and events organization tools?
Some companies that offer all of these services include Wetpaint, Huddle.net, Ning.com and Webjam. Each has a different emphasis, and one should assess them against one's specific needs. For example, Huddle is centered around document-sharing and collaboration, and might be morerelevant for businesses that want to exchange and collaborate with suppliers. Webjam might be more appropriate for businesses looking to spread a brand virally, as it allows them to build branded online communities and lets individuals in those communities automatically replicate their own branded splinter social publishing platforms.
Communicating a Social Web Presence
It is important to complement a social Web presence with the right marketing and communication tools to ensure that the Web site gets linked to by bloggers and online media.
One-stop shop tip: PRWeb is an affordable solution for press release online distribution that is fully integrated with social media tools. A business can increase visibility and search engine ranking by enhancing the standard press release with indexed images, contents from YouTube, Technorati keywords and search engine optimization tools. The RSS feed automatically generated can be used as an online newsroom in any external Web site.
Measuring the Results
As always, the results of working with social media should be carefully monitored. Fortunately, the Web is excellent at assisting this process. Businesses should monitor blog coverage, Web site hits and registration numbers in order to gauge the impact of their social media efforts.
One-stop shop tip: Google Alerts is an excellent (and free) way to track a brand's or business' coverage online. It is a free and easy service. Google Alerts are e-mail updates based on a choice of keywords.
---
Yann Motte
is cofounder and CEO of
Webjam
, which provides individuals and organizations with a free and flexible platform to create a relevant and personalized Web presence.
---