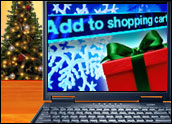 Online sales were up almost 14 percent year over year for 2009's Cyber Monday, the first Monday after Thanksgiving and traditionally a big selling day for online retailers. Shoppers spent over 38 percent more per order compared to 2008's figures, and they bought nearly 10 percent more items per order, according to market research firm Coremetrics.
Apparel and jewelry retailers reported the biggest dollar increases in sales, Coremetrics found.
Shopping patterns changed this year, as more shoppers made purchases from the home than the office, the National Retail Foundation discovered. Online traffic to retail Web sites hit a new record.
Shoppin' but Not Droppin'
Online sales were up 13.7 percent year over year on Cyber Monday, Coremetrics found. Also, shoppers spent 38.2 percent more per order — US$180.03 compared to $130.24 last year. Further, they bought roughly 10 percent more items per order this year than on Cyber Monday 2008.
Shoppers are more focused now, the research firm stated. "Consumers are sticking to a list and coming in and buying just what they want," John Squire, chief strategy officer at Coremetrics, told the E-Commerce Times.
That was helped by greater site design savvy on the part of online retailers. "Retailers are streamlining their sites and their Web pages," Squire pointed out. "Consumers don't want to spend time navigating a site; they just want to buy what they're looking for. When they don't find what they want, they leave."
Two types of statistics highlight these trends: Session times and bounce rates. Multi-page and browsing session times, which show how long consumers will spend on a site, fell almost 6 percent and almost 5 percent year over year, respectively. However, shopping cart sessions and order sessions were up by just over 11 percent and almost 32 percent year over year, respectively.
Bounce rates, which show how quickly visitors leave a page, shot up by almost 18 percent year over year.
Two other sets of statistics are relevant here. One is page views per session, which fell roughly 25 percent year over year. The other is product views per session, which fell by nearly 19 percent year over year.
Dressing Up Is Hard to Do
Apparel and jewelry retailers registered the largest increase in the average dollar amount consumers spent online. The average order for apparel went up more than 26 percent year over year, from $102.97 to $130.12. Jewelry retailers saw average order value go up more than 14 percent, from $242.80 to $277.39.
For both categories, however, it appears that the buyers were generally repeat purchasers. The new visitor conversion rate for jewelry fell about 12 percent for both.
Still, for jewelry retailers at least, the picture was uplifting. "Jewelry sales took a real beating last year, with average order values down by up to 50 percent at times," Squire said. "That tells you how well jewelry retailers were able to go out and market."
Black Friday and New Customers
The Internet was humming with online shoppers on Cyber Monday. Global retail traffic peaked at more than 7.9 million visitors per minute to retail sites included in the Akamai Index that day, according to Akamai Technologies. The company tracks the number of visitors each minute to more than 270 online retail sites worldwide.
This year's figure was 17 percent more than that of Cyber Monday 2008. To get a better idea of how strong the traffic was, consider that by 11:30 a.m. EST time on Monday, global traffic measured by the Akamai Index had already surpassed the 6.7 million record set on Cyber Monday 2008, according to the company.
The strength of online sales on Cyber Monday surprised Squire because online sales were also fairly strong on Black Friday. The day after Thanksgiving is traditionally a bonanza for brick-and-mortar retailers, but online sellers have also begun pushing sales and promotions on Black Friday in recent years. About 28.5 percent of Americans shopped online over the weekend, according to the National Retail Foundation. Americans spent $41.2 billion on shopping over the holiday weekend, the Foundation said.
"It's hard for me to believe that Black Friday was as big as it was — online sales were 35 percent higher year over year on Black Friday," Squire said. "Department stores brought 151 percent more new consumers to their sites on Black Friday."
If Black Friday was that strong, where did all the online shoppers who hit the Web on Monday come from? Possibly repeat shoppers, Squire explained. "It's likely that people who bought online on Black Friday had a good experience and chose to come back and buy from other retailers," he said.
There's No Place Like Home
Another explanation for the strong showing on Cyber Monday could be that people who hadn't completed their holiday shopping decided to put their feet up and avoid the crowds by going online, suggested Carl Howe, director of anywhere consumer research at the Yankee Group.
"I think this year a lot of people are simply refusing to deal with the crowds and preferring to do their shopping in a more sane environment," Howe told the E-Commerce Times. "Brick-and-mortar stores are opening at outrageous hours — midnight, 3 a.m., 4 a.m., 5 a.m. — and people are starting to understand they aren't doing this for their own good but to unload old stock and to draw crowds."
Shopping from home is a trend gaining strength in North America, Margaret Rivera, marketing manager for e-commerce at Akamai, told the E-Commerce Times. "We're seeing a bit of a shift in when people do online shopping, especially with the growing adoption of broadband at home," she said.
Online shopping traffic peaked at 10 p.m. EST in 2008 and at 9:30 p.m. EST this year. It used to be 2 p.m. EST, Rivera pointed out.