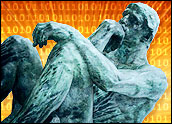 A colleague of mine recently remarked in frustration that IT often finds itself in the worst possible position: taking the blame for a host of problems — including increasing costs, growing capacity needs and poor responsiveness — while being limited by a lack of real influence and control over the solutions.
This comment came as the result of observing an IT organization that was under extreme pressure to reduce costs but was continually finding its attempts overridden by more powerful application and business units based on seemingly unchallenged and unvalidated "needs."
Some might respond that the organization was simply not making a persuasive enough case, or that it simply lacked the right levers to affect change. Either way, this is not an isolated scenario.
Beyond this growing issue, another challenge is facing IT. The convergence of rapidly evolving technologies, changing business requirements, and the increasing insistence of users interacting with applications and data on a far more personal level has created a scenario that will result in a major shift in the role of IT in organizations.
The challenge for IT is whether it is able to proactively get in front of this change and be in a position to guide it, or whether it will simply react to it and risk being pushed aside by the current.
With some notable exceptions, IT organizations have not traditionally been perceived as change agents. This may sound like a criticism, but it's really just a simple observation, and there are valid reasons for this being the case.
Being tasked with the protection of an organization's electronic data and the responsibility of ensuring the reliability of applications upon which critical business processes depend demands comprehensive planning, design, testing and validation. However, all of these responsibilities are impossible to tackle with understaffed IT shops fully consumed with operating the current environment.
Just or unjust, the collective mindset among IT professionals trends toward maintaining the status quo — a perspective that often results in defending why things should not change rather than spearheading why they should.
Another way of saying this is that their focus is risk aversion and on keeping things running. Major IT changes that take place are often evolutionary improvements driven by the product road maps of trusted, preferred vendors — safe and predictable. In effect, most organizations typically don't adopt a new approach until after it has been well established and vetted by others (those rare brave souls upon whom all startups depend) and a consensus view evolves. Basically, it's okay to be a little bit ahead of your peers, but better not to stray too far ahead of the pack.
While this is not a new scenario, the difference today is that the pace of technology change and the urgency of business demands on IT is intensifying to a degree that has begun to outpace what IT can comfortably and confidently deliver. Happening at an even faster pace, it's become a real struggle for IT to keep up with this demand. This is the situation that organizations are finding themselves in today.
Enter the Cloud
The cloud model is the result of the creative reimagining of several technologies, most notably virtualization. It takes advantage of the widespread availability of high-bandwidth Internetworking, and grid-like scalability of hardware and software, all fueled by the availability of commoditized (i.e. affordable) infrastructure. This has enabled the realization of a true services-focused approach to IT that can offer a level of flexibility and responsiveness not easily attainable through the traditional route.
On the surface, this addresses many of the IT-related complaints of the frustrated business user. In addition, barriers to access are low, and the cloud provides an instant alternative to anyone with a credit card. This is unlike traditional IT models where cost (if apportioned at all) is often essentially a "tax" over which users have little or no control.
In this case, cost is based on real usage, meaning if a business doesn't use the service, it doesn't have to pay for it. The net of this is that we are at the precipice of a major transition in IT that is likely to dwarf those of the past. The critical question: Is IT ready for this?
A recent GlassHouse survey of more than 100 enterprise IT professionals suggests that many are not ready. In fact, when asked where they were in development/deployment of a cloud strategy, 31 percent said they had established a strategy or had a proof of concept underway while 69 percent were either still in the investigation stage or had no plans.
The most common reasons cited for not having a cloud strategy were related to security concerns, data recovery and ownership issues — and simply being too busy with other activities.
While all are valid issues, none are insurmountable. For example, in the area of security, the capabilities and expertise of major cloud providers — with many years of experience in the cold, cruel world of the public Internet — exceed that found within many organizations. The challenge is weeding out the true barriers from the excuses that simply justify saying "no."
Traditional IT vs. a Cloud Service Provider
The concept of delivering a services-based approach to IT has been with us years. Its focus has been on clear definitions of service requirements (service level agreements and service catalogs), measurement and reporting, consumption-based cost models, and mature (ITIL-influenced) operational practices — all goals for some of the leading IT organizations.
However, evolving to this level of service delivery has not been easy, and for some organizations, the goal of becoming a true service provider proved to be too difficult — a worthy goal, but a bridge too far.
As a result, a majority of organizations remain heavily techno-centric, focused on building reliable infrastructures and relying heavily on vendors for technical direction. Although it's becoming less common, many IT shops still operate on a project-focused, quasi-customized model that does not lend itself to the responsiveness and flexibility being demanded by the business.
By contrast, in a cloud, it's once again all about service delivery, or more specifically, automated service delivery. Cloud providers leverage technology to provide standardized offerings that can be self-selected and automatically provisioned. This enables dramatic scalability and allows IT staff to focus on other tasks required to support the cloud, including developing and improving activities related to
orchestration, configuration and lifecycle management;
demand planning, capacity management and forecasting;
metering and analytics; and
customer management, including SLA reporting and accounting.
It's notable that these areas are where IT often lacks focus or demands modification of an effort that is currently in place. Rest assured, there are plenty of vendors of all sizes working on cloud tool suites to address these gaps.
Making the Transition
The cloud era is upon us. As newer, non-IT-sponsored, mobile devices have pervaded the workforce and IT has been forced to respond, the cloud genie is out of the bottle. Unlike the mobile revolution, which impacts the organization at its periphery, the cloud goes straight to the heart of IT — the data center.
Without being alarmist, it has the potential, from a central IT perspective, to become outsourcing on steroids. It's entirely plausible that just as organizations transitioned primarily from a build-to-buy model for enterprise software 20 years ago, the conversation for IT services across the board will become cloud vs. non-cloud very soon. In fact, it's already started for a number of organizations, and a strong rationale will be needed to justify the latter.
The reality for most organizations is that a hybrid model will evolve, and traditional IT, private cloud and public cloud will coexist. IT organizations need to adopt a proactive view and develop a clear plan not only to manage, but also to lead this change.
In addition to traditional IT capabilities in areas such as asset management, provisioning, and plan, build, run project cycles, IT needs to focus on providing a portfolio of hybrid services obtained from a variety of sources, but integrated and managed under a common services umbrella.
Initial steps that should be taken by IT focus on the cloud and developing a focused strategy with an evolutionary road map for how and when cloud-related elements will be adopted. Specific activities should include the following:
Developing a clear understanding of cloud technologies and capabilities — There are numerous cloud technology variants and, within those variants, numerous vendor options. Understanding the capabilities and determining which are most relevant for a given organization is a critical step.
Identifying which environments in the organization are most "cloud compatible" — Basically, "know thyself." If concerns about off-premises control of data are a major impediment, then it is important to identify those functions that are not likely to be subject to such constraints. Application-readiness is another major area of cloud focus, as some lend themselves to a cloud approach more so than others.
Documenting existing service delivery costs — A big driver for cloud interest is cost containment, but few organizations have a clear understanding of how much it costs to deliver a service on a per-unit basis. This is a metric that becomes critical for doing an apples-to-apples comparison to a cloud alternative.
Quantifying the potential benefits from cloud services — Understanding benefits and tradeoffs beyond the cost impact an equally important analysis that must be done when considering a cloud option.
Improving organizational readiness for cloud services — Becoming a successful provider of services requires capabilities to handle things like automated provisioning and more accurate demand management. This will entail new or different roles and responsibilities within the organization, which must be developed.
Based on this list, transitioning to a cloud model doesn't sound easy, but the status quo isn't really a viable option, because it is becoming increasingly unable to adequately satisfy 21st century business demands.
The frustration expressed by my colleague can only be truly resolved by establishing common, aligned objectives between IT and its consumers and providing a transparent, service-oriented set of capabilities. The best road for doing that is via the cloud model, and the sooner that IT realizes this, the better.