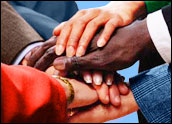 On Facebook, most people make friends the old-fashioned way — by sending a request to be added to someone's posse of pals. Now, an Australian marketing company hopes to save you time and energy by simply buying you a few thousand buddies.
The service from uSocial is mostly meant for businesses, celebrities and other individuals looking to expand on the social network, and Facebook isn't happy about it.
Under the service, which launched this week, 1,000 new Facebook friends cost less than US$200. For 5,000 Facebook friends — the maximum allowed by that site — uSocial charges $727, though through mid-September, the promotional rate is $654.30.
The service can also help companies accumulate fans — Facebook-speak for the users who acknowledge liking a person, business or idea on the site.
Buzzy Buddies
Leon Hill, the 24-year-old founder of Brisbane, Australia-based uSocial, said businesses and other clients are essentially buying a base of potential customers.
"We are getting, basically, targeted friends and fans who are saying, 'Yes, I want information on this,'" Hill said in a phone interview, adding that friends and fans can always change their minds and sever ties whenever they want.
He said businesses are interested in his service because they are realizing that social media Web sites can help generate buzz more quickly, cheaply and effectively than online ads and more traditional types of advertising.
Hill said friends are all gathered manually.
USocial logs in to a client's Facebook profile or creates a new one. It seeks out people who would be a good fit — like car buffs if uSocial is trying to promote a specialty auto-parts company — and sends them friends requests tailored to that business. The requests don't mention that uSocial is working on behalf of the business.
The process for getting fans is similar, except uSocial does not need to log in to a client's profile.
Because all that is done manually, Hill doesn't consider it spamming. He also said potential friends aren't getting anything in return for adding a client — he wants people interested in the company rather than a freebie.
Frowny Facebook
Hill said that as far as he could tell, he's not violating Facebook's terms of service — something with which Facebook disagrees.
Facebook spokesperson Barry Schnitt said that giving anyone else access to your Facebook account goes against the site's policies, as it makes Facebook less secure. Sending out friend requests on behalf of others is also unacceptable, he said.
Beyond that, Schnitt said uSocial detracts from Facebook's efforts to foster a culture of authenticity.
"Buying and selling of actions that are supposed to be taken by a user are certainly, we would argue, not authentic," Schnitt said.
Palo Alto-based Facebook is investigating uSocial's practices, and Schnitt said any Facebook users found sharing their passwords with third parties could have their accounts permanently disabled.
This is not the first time uSocial has tried to help businesses up their visibility on social Web sites. Four months ago, it began offering a similar service on the online-messaging site Twitter, which did not respond to multiple e-mail requests from The Associated Press for comment.
Shady Society
Debra Aho Williamson, a senior analyst at research firm eMarketer, said uSocial's practices seem part shady, part effective for companies to increase their social-media presence very quickly.
However, she warns uSocial's tactics could irritate a lot of Facebook users — and a company's potential customers — if the targeting isn't done properly.
Hill started uSocial in December 2008 by selling votes on news aggregator site Digg.com. For nearly $100, uSocial would vote 100 times on Digg's site for any story chosen by the client, raising its position on the site and gaining exposure. Clients could pay up to about $700 for 1,000 votes, Hill said.
In this case, uSocial was using software to vote, Hill said.
He said Digg ultimately ordered him to stop, saying uSocial was breaching the site's policies. He halted the Digg service a few months later, saying he had too many clients to keep up with demand. He said he will eventually relaunch it with better software for automated voting. Digg declined comment.
Hill would not name any clients currently using uSocial on Facebook or Twitter, but said Korea's tourism department used its Digg services, as did a Mormon organization he couldn't immediately name. A spokesperson for the Korean consulate's office in San Francisco had no immediate comment, while Morman church officials in Salt Lake City said they were not involved.
"I do understand that there are people that have a problem with what I'm doing," he said.
However, he justified the service by saying, "we're really only doing for our clients what they could do in their own time if they put their minds to it."