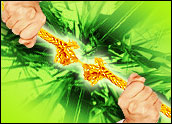 Samsung said Tuesday that it will drop its pursuit of injunctions against the sale of some Apple products in Europe. Samsung wants to compete "fairly in the marketplace, rather than in the court," according to its official statement, but the move is an odd twist in the ongoing legal saga between the two consumer electronics giants.
With a series of patent battles still being waged in courts in Europe and the U.S., this move does suggest that Samsung is now willing to give some ground.
Some of the products involved in these cases may no longer be serious market contenders, but would that be reason enough for Samsung to abandon its quest for injunctions?
"Usually in the courts a win is a win, even if it is against obsolete devices," said Roger Entner, principal analyst at Recon Analytics. "You build your case that way."
Apple and Samsung did not respond to our requests for further details.
Writing on the Wall
Although Samsung has withdrawn the requests to ban sales of certain Apple products, it has not dropped the lawsuits pending in European Courts. It still intends to pursue compensation for alleged abuse of standard essential patents in the interest of "protecting consumer choice." The patents in question are subject to FRAND (fair, reasonable and non-discriminatory) licensing terms.
"Samsung saw the writing on the wall with this one," suggested Chris Silva, industry analyst at the Altimeter Group. "After a U.S. judge tossed the Apple request to ban sales of Samsung handsets, it was highly likely that a similar scorched earth strategy from Samsung was not likely to gain ground in an EU court. Instead, it seems Samsung is already using the move as a political ploy to paint itself taking the high road, commenting that they wish to compete in the market, not in a courtroom."
Although this is an unexpected move, it's perhaps one that is being read into too deeply.
"To tell you the truth, this is all very confusing," said telecommunications analyst Jeff Kagan.
"It's hard for non-legal minds to decipher the code. Rational minds may be starting to ebb in this argument. It may be that both sides can be considered winners based on the last two events over the last couple days," he told the E-Commerce Times.
"Just remember, the game is not over. This is just another inning. The game still has plenty of innings to play."
In the short term, though, it doesn't look good for Samsung.
The abandonment of its injunction strategy in Europe is "all posturing, naturally," maintained Silva.
Given the previous U.S. verdict over Samsung, the company's attempt to position itself as rising above the fray may simply be an indication of sour grapes, he suggested.
The Far Side of the World
In that U.S. case, much has been made of the judge hoping the two sides could find common ground and settle their differences. Could Samsung's move on the other side of the world be a hint that it is finally looking for a way to make some accommodation?
Even if the European cases have no legal impact on the American case, the move by Samsung could give it an advantage in the U.S.
"With Apple stock dropping and judges finding against both Samsung and Apple, both companies are starting to look like they can find a negotiated way out of this mess," said Rob Enderle, principal analyst at the Enderle Group. "In any case, it seemed unlikely Samsung was going to be successful in the efforts they dropped, and they realized that a string of losses would create an image problem."
What's not likely is that Samsung was suddenly struck by a desire to show good will toward Apple.
Still, "both companies seem to be moving beyond the 'do anything to piss the other off' approach to a more pragmatic strategy focused more strongly on results," Enderle told the E-Commerce Times.
"In the end, the firms are getting closer to ending this war. The core of this is the sense of betrayal by both Samsung and Google," he observed. "Both firms were trusted by Apple, and both appeared to use this trust to make Apple look foolish and nave. That made this battle personal — and personal is both expensive and a great way to put smiles on the faces of lawyers."