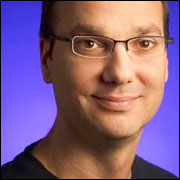 Just one quantum computer running artificial intelligence algorithms would be capable of connecting pretty much all the devices on the planet, Android creator Andy Rubin told an audience at the Bloomberg Technology Conference on Tuesday.
Rubin, who also launched Google's efforts in robotics, is now CEO of Playground, which together with Redpoint Ventures has invested in an unnamed startup working on quantum computing.
Working in concert, AI and quantum computing could yield a conscious intelligence that would underpin every piece of technology, Rubin suggested.
New computing platforms emerge every 10-12 years, and the next platform will be based on data and people training AI systems to learn, Rubin said.
"Yes, we're moving towards intelligent solutions, some of which will be locally controlled and others network controlled, on the edge of the network or in the cloud," said Jim McGregor, principal analyst at Tirias Research.
"But that intelligence just applies to the function of the device," McGregor told the E-Commerce Times. "It's not like your toaster is going to be able to perform quantum mechanics."
Taking Baby Steps
Rubin's vision extrapolates the way the Internet of Things could evolve.
Internet-connected household appliances already are available on the market, as are Web-connected hubs such as Amazon's Echo and Google's Home.
Google, Microsoft, Facebook and Amazon are battling for dominance in the smart home market, which will hit nearly US$122 billion by 2022, according to Markets and Markets.
Those companies, along with major automakers around the globe, also are fighting for position in the connected car market, which is projected to hit more than 70 million units by 2020, according to Global Industry Analysts.
Google, Microsoft and Facebook are working on AI technology and machine learning. More than 80 of the world's 100 largest enterprise software companies, by revenue, will have integrated cognitive technologies into their products by the end of this year, Deloitte Global predicted. Those technologies include machine learning, natural language processing and speech recognition.
Meanwhile, IBM is racing ahead to make Watson's AI capabilities widely available. It recently opened access to its quantum processor, the IBM Quantum Experience, which runs on the IBM Cloud, to the research and scientific communities.
IBM also is working on ways to mass produce quantum computer processors, a technology Rubin reportedly considers necessary for his vision of the future.
IBM and other large companies — including Oracle, Salesforce, Google and Microsoft — also are working to leverage IoT.
"The industry's going at a frantic pace right now, driven by the potential of the applications — especially in the industrial IoT applications like smart cities, autonomous vehicles, healthcare and industrial automation," McGregor said.
"We're already seeing new processing architectures emerge, like those from IBM and KnuEdge, which are enabling technologies, but we are still at least a few decades away from the Minority Report scenario," McGregor noted.
No One AI to Rule Them All?
Rubin's vision of one overarching intelligence running everything "is reminiscent of some other failed predictions," observed Rob Enderle, principal analyst at the Enderle Group. "One could do this — but competition, differences between nation states, privacy concerns and latency will more likely result in a lot of [such intelligences running different devices]."
That said, "most connected things will likely be linked in some way, both for data acquisition and control," he told the E-Commerce Times. Still, "it will take a number of years to replace existing standalone solutions with better-integrated AI alternatives."
Expect a 20-year window for this vision to play out, Enderle suggested, and "places like Korea, China and Japan will move more quickly than the United States does."
Should one intelligence actually end up running things, that system will be "substantially more intelligent than we are," he pointed out. "At some point it may call our intelligence artificial."
AI recently has been the target of grave concerns from luminaries like Stephen Hawking, Elon Musk, Ray Kurzweil and others.
The AIShield is an effort to create a defense if AIs should get out of hand, Enderle said, and that effort "should be better supported than it currently is, given the nature of nation states and the possibility of an AI doomsday device."