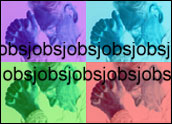 The employment picture for high-tech workers is changing dramatically. Last year, the U.S. high-tech sector added 77,000 jobs, mainly in the software services and engineering sectors, according to "Cyberstates 2009," a report published by TechAmerica.
However, high-tech manufacturing and communications services continued to lose jobs in 2008, carrying along the trend of the previous five years, the report stated.
Other sources indicate 2009 has ushered in a turn for the worse. A quick check of the figures in TechCrunch's Layoff Tracker showed that almost 47,400 high-tech workers were laid off from January 1 to the end of March, counting only those layoffs clearly indicated as being in the U.S.
The situation might stabilize in the second quarter of this year, according to statistics from Robert Half Technology, a high-tech temp workers agency. In its "IT Hiring Index and Skills Report," released earlier this month, it found that 83 percent of CIOs plan to maintain their IT staffing levels during the second quarter.
Help desk/technical support and network administration will have the most growth, according to the Robert Half survey.
Where the Jobs Are
Software services and engineering and tech services added jobs in 2008, according to the TechAmerica report. However, the software services sector, which is one of the high value-added sectors for the U.S., is growing, according to Josh James, director of research at TechAmerica.
Robert Half Tech's report states that desktop support is the technical skill set most in demand, overtaking network administration, which was the leader for the past two quarters.
However, the budget crunch will lead enterprises to hire more contract workers. One in five IT executives who plan to add staff will hire a mix of full-time and contract workers, the Robert Half Tech survey said.
Job Loss Figures May Grow
The 2008 figures don't necessarily reflect the full picture. Many of the layoffs announced last year will take effect this year because typically a company doesn't know what jobs will go when it makes the announcement, Josh James, director of research at TechAmerica, told the E-Commerce Times.
While TechAmerica does not make any forecasts, James said economists' predictions that the recession will continue for a while will continue to impact the job situation.
However, he sees some hope later this year with the Obama stimulus packages. "Those packages will have a strong impact on the technology industry, as they're heavily weighted towards technology, technology infrastructure, research and development, energy efficiency and health IT," James said. "Once they get out into the states, we believe there'll be a chance for the high-tech industry to lead the economy."
TechAmerica represents about 1,500 member companies of all sizes in both the private and public sectors. It was formed by the merger of the American Electronics Association, the Cyber Security Industry Alliance, the Information Technology Association of America and the Government Electronics & Information Technology Association.