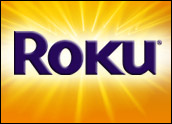 Video streaming service Roku has added an integrated news service powered by AOL to its home screen, the company announced Thursday, giving users quick access to news content including videos from AOL partners such as The Wall Street Journal, Reuters, BBC News, CNET, GlobalPost and Entertainment Tonight.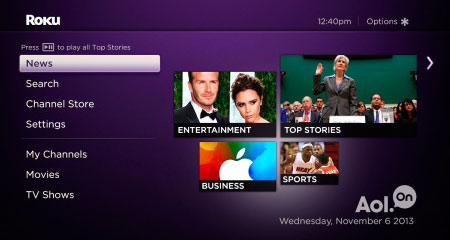 "News is among the fastest growing categories on the Roku platform, and this partnership with AOL makes it even easier for customers to find and start watching a variety of news videos," said Steve Shannon, Roku's general manager of content and services. "This is the first integrated news service on a TV streaming platform, and we expect for it to be a big hit."
The integrated service is now available to Roku users free of charge on the new Roku 2, Roku 1 and Roku LT set-top devices and will be automatically updated through software updates to all current Roku products.
Not a Game Changer
Roku already has more than 1,000 channels and is continually adding new content. This partnership with AOL will certainly deliver a whole lot more to viewers.
AOL is committed to making its library of premium videos available on every device, Rob Delacruz, the company's general manager of connected TV and mobile video, told the E-Commerce Times.
"Consumers today want instantaneous access to current events, and we're able to deliver on that request by serving news videos from our syndication partners within hours or even minutes after the content exits the editorial review process," Delacruz added.
Whether the new capabilities will give Roku a significant leg up on the competition, however, is another question.
"This is a nice incremental content addition for Roku, which already has good traction," Greg Sterling, principal analyst at Sterling Market Intelligence, told the E-Commerce Times. "It's not going to be a major differentiator or a game changer for the company."
Missing the Mainstream
While Roku's business model has been to target viewers who may opt for an alternative to traditional cable offerings, the service has not been entirely without news even before the new partnership.
"There is actually a lot of news available with Roku already," Dan Cryan, director of digital media at IHS iSuppli, told the E-Commerce Times. "There has already been a news category with Roku, and it has already offered Sky News and Fox Business as well as top stories from NBC.
"Roku has provided a range of news service, which they have already promoted," Cryan added. "What has been missing is the mainstream cable news. There has been no CNN and no full MSNBC."
'A Grown Up TV Alternative'
Indeed, media have become increasingly fragmented, Cryan pointed out.
"The question that Roku is now facing is whether it can get the information to users in a timely manner and be relevant to viewers," he added.
In the meantime, "strategically speaking, it makes them look like a grown up TV alternative," Cryan concluded. "If all you have is Hulu and some apps, you still look like a streaming box, but with the inclusion of actual news services from major brands in the business, this makes for a much more rounded offering."