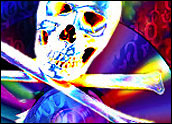 The music industry switched gears last week in its legal campaign to squash piracy of its intellectual property and filed a lawsuit against Usenet.com which it calls "a haven for those seeking pirated content."
In recent months, the industry, through its trade organization — the Recording Industry Association of America (RIAA) — has attempted to discourage music piracy by suing individuals it suspects of infringing on the copyrights of its record label members.
This lawsuit against Usenet.com harkens back to the early days of the RIAA's anti-piracy efforts, contends Ross A. Dannenberg, an intellectual property attorney with Banner & Witcoff in Washington, D.C.
Usenet Loophole
"It looks like they've [RIAA] come full circle," he told the E-Commerce Times.
"They started off suing the proprietors of peer-to-peer file sharing networks — Napster, AIMster, Grokster — and they won those cases," he continued.
"Then the RIAA said, 'Let's start going after the individual users and instill the fear of a lawsuit into society in an attempt to curb copyright infringement,'" he added. "And they've met with some success in that strategy."
Now, he noted, the RIAA has figured out that Usenet is a loophole in its anti-piracy campaign.
LongiTime Annoyance
Usenet is a global, decentralized discussion system that dates back to 1980. Although primarily a text medium, other kinds of files — like music files — can be distributed through the system as "binaries."
"The entertainment industry has been annoyed by Usenet sharing for some time, so they haven't just discovered Usenet," Fred von Lohmann, a staff attorney with the Electronic Frontier Foundation (EFF) in San Francisco, told the E-Commerce Times.
"It is relatively new for it to litigate," he added. "It's a new front in the war against file-sharing."
Haven for Pirates?
Usenet discussions, or newsgroups, number in the thousands and are located on servers around the world, but, for various reasons, including space, all servers don't carry all newsgroups. What's more, newsgroup servers don't tend to archive messages for more than a few days.
The company being sued by the RIAA — Usenet.com — does host most newsgroups and has a lengthy retention policy on messages. For those features and others, including anonymity, it charges a fee.
"[Usenet.com] sells access to a body of content from a global network of computers known as 'Usenet,' as well as from [its] own users, that contains (without authorization) millions of copyrighted sound recordings," 14 record companies alleged in a 167-page complaint filed in U.S. Court in New York.
The companies assert that Usenet.com "touts its service as a haven for those seeking pirated content, claiming that it provides '[t]oday's hottest way of sharing MP3 files over the Internet' without getting caught."
Attempts by the E-Commerce Times to reach Usenet.com seeking comment on the lawsuit were unavailing.
'Brazen Outlaw'
"Usenet.com has promoted and advanced an illegal business model on the backs of the music community," the RIAA said.
"It may be theft in a slightly different online form, but the illicit business model of Usenet.com is little different [from] that [of] the Groksters of the world," it continued. "Instead of taking responsible action to prevent copyright theft, Usenet.com continues to take money from subscribers without appropriately compensating those creators whose works are advertised and used to lure those subscribers in the first place.
"Especially in a world where record companies are actively licensing content to Web sites to allow fans to discover new, hassle-free ways to obtain high-quality music, this business should not be allowed to remain a brazen outlaw that actively shirks its legal obligations," it added.
Beyond Fargo
Although a small company located in Fargo, N.D., is the target of the lawsuit, the the RIAA's litigation may have broader intentions, von Lohmann said.
"This is intended to send a message to the entire Usenet community," he maintained.
"There are other Usenet providers — ISPs and universities, for example," he continued. "Many of them already refuse to carry certain binary groups. No doubt this is going to put increased pressure on Usenet providers to drop certain binary groups."