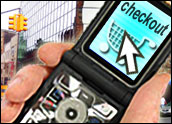 2009 is expected to be the first year when mobile phones start gaining real traction in holiday shopping. Nearly one in five consumers will use a mobile device to assist in their holiday shopping this year, according to Deloitte's most recent Annual Holiday Survey of retail spending and trends Shoppers will use their mobile devices to find store locations, research prices, find product information, get coupons, read reviews and more. An estimated one in four consumers will even make a holiday purchase with their phone, representing a sizable chunk of potential sales.
It's little wonder then that retailers are showing more interest than ever before in the mobile Web. Recent Nielsen data shows that the mobile Web audience in the U.S. grew a whopping 34 percent between July 2008 and July 2009, in spite of the economic climate and otherwise bleak consumer spending. Ironically, the down economy may be a key factor luring consumers to the mobile Web this holiday season, as they use their mobile phones to compare prices and find the best bargains, even in real-time as they peruse malls and stores.
Despite early glimmers of a recovery, the current reality for retailers is that consumer spending and purchase patterns are not expected to return to pre-recession levels any time soon. This holiday season, retailers must therefore seize all opportunities to strengthen brand and customer loyalty across all channels, which will help drive revenues. As customer preference sways increasingly to the mobile Web, retailers must ensure high-quality, satisfying mobile Web experiences.
PC Web Sets a High Performance Benchmark
Throughout 2009, several leading retailers demonstrated the trend for online sales to remain strong in spite of overall sales declines. For example, Macy's reported a 15 percent increase in online sales for the month of September, compared with a 2.4 percent decline in total revenue. In addition, in the second quarter of 2009, Gap's online sales climbed 17 percent, compared with a 7.3 percent drop in total. Urban Outfitters' Web sales also jumped 17 percent in the second quarter, outpacing an overall 1 percent advance. Lastly and most recently, research firms ComScore and Coremetrics reported that Internet spending on Black Friday and Cyber Monday rose 11 percent and 16 percent, respectively, from a year ago. In contrast, overall retail sales for the Nov. 26 though 29 period increased only .5 percent from the year prior, according to the National Retail Federation.
Understanding the critical role the Web can play in compensating for slower store sales, many of the well-established retail brands have taken proactive steps to ensure terrific Web performance, particularly in the area of speed, which helps reduce abandoned carts and drives conversions and revenues. It seems retailers have made significant improvements, as data from Black Friday and Cyber Monday shows that most of their Web sites and applications maintained a sub-two-second response time, even while supporting some of the heaviest traffic loads of the year.
Mobile Web Performance Not Yet Up to Speed With PC Web
Speed is absolutely essential to the online experience, as validated by recent Forrester Consulting data which shows two seconds or less (down from four seconds just a few years ago) to be the new threshold customers are willing to wait before growing frustrated, abandoning a site and going to a competitor.
While the traditional Web seems to be delivering, the mobile Web is not stacking up, with additional data from Black Friday and Cyber Monday showing page load speeds for mobile retail sites ranging from 2.18 seconds at best to almost six seconds at worst, with 3.7 seconds the average — far above Forrester Consulting's two-second threshold. Furthermore, the on-the-go nature of mobile devices tends to place an even higher premium on speed and convenience, thus making retailers even more susceptible to heavy fallout from poor performance, including disgruntled customers, lost revenues and damaged brand.
Customers Intolerant of Poor Mobile Web Performance
At the same time, another trend is emerging in the form of increasing ubiquity between desktop PCs and mobile devices. In a recent report entitled "Mobile Devices on a Path to Eclipse PCs," IDC claims that in 2010, mobile devices will no longer be seen as subservient to PCs, but rather primary client platforms that may eclipse PCs in several areas — or at least come very close. Indeed, high-end handsets like the iPhone are actually richer in features than many computers in use today, and when combined with the power of 3G networks, they stoke customer expectations for mobile Web experiences that match the excellence of a PC.
However, to date, mobile Web customer experiences are just not matching expectations, and while mobile users may be willing to accept a little bit of a less-rich environment, they still expect their experiences to be as fast as, if not faster than, what they're used to on the traditional Web. The bottom-line impact of poor mobile Web performance can be seen in a recent Forrester survey, which found that only 14 percent of U.S. Web buyers who own an Internet-enabled mobile device have used it to make purchases, and almost half of the survey respondents who hadn't yet used the mobile Web to make purchases said they would do so if it offered a faster experience.
Making Mobile Web Performance a Priority
Retailers that fail to take a holistic approach and deliver superior Web experiences across all channels, including mobile, are jeopardizing investments in mobile Web initiatives while leaving a potentially lucrative (and rapidly growing!) customer segment behind. The key to ensuring superior mobile Web experiences lies in leveraging proven Web performance management tools and techniques from the PC Web world, which allow retailers to:
quickly gain and leverage a true view of performance as experienced by all critical mobile user segments throughout the world in order to pre-emptively identify and resolve problems, ideally before customers are even aware a problem exists;
proactively test and measure performance across the full mobile Web application delivery chain (for example, third-party services, ISPs, carriers, content delivery networks, browsers and devices), helping to optimize a wide range of performance-impacting variables that ultimately shape customer experiences; and
gain a unified view of overall Web performance — both mobile and PC-based. By monitoring and managing performance in a side-by-side fashion, retailers can achieve a "One Web" approach that guarantees Web performance, regardless of customers' mode of access.
Retailers wishing to stand out from the crowd and convert browsers to buyers on the mobile Web must ensure that customers experience performance similar to a desktop PC, which means placing mobile Web performance management squarely at the top of their to-do lists.
Fortunately, today's Web performance management tools can be easily extended to the mobile Web and are easier and faster to use, as well as more cost-effective and accessible than ever before. Retailers that use these solutions will be in a stronger position to reap the full benefits of the fast-growing mobile channel and maximize their overall Web presence, throughout the holidays and beyond.
---
Matthew Poepsel
is vice president of performance strategies at
Gomez
.