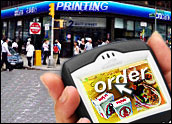 Ten years after national commercial platforms for mobile commerce were launched in the Philippines and Japan, the United States is slowly beginning to creep into the field.
Residents in rural parts of the Philippines and other developing nations routinely pay bills through their smartphones, while people in Japan and Europe can buy products as well as train and airline tickets using their mobile phones.
Meanwhile, Amazon.com and PayPal both just recently opened up their payment platforms to let application developers create mobile commerce apps.
Meanwhile, GS1, a not-for-profit global organization whose members consist of the world's largest firms, including Kraft, Johnson & Johnson and Wal-Mart, has begun attempting to define open standards to let businesses and consumers better interact using mobile phones.
Lagging Start
Back in 1999, national mobile payments systems were introduced in the Philippines, as Smart Money, and in Japan with the launch of the first mobile Internet platform, mobile carrier NTT Docomo's i-Mode.
How is it these countries went ahead with m-commerce and m-payment systems a decade ago, whereas the U.S. is still limping toward those goals? "Japan is structured very differently from the U.S., with a single dominant carrier, NTT," Conrad Sheehan, founder and CEO of mobile payments specialist mPayy, told the E-Commerce Times. "Developing nations, on the other hand, have the key advantage of having little to no legacy infrastructure, be it wireline phones, robust ubiquitous ATM networks; or POS terminals." Sheehan should know — he was a senior vice president at JP Morgan Chase, where he headed its consumer payments business.
In other developed nations, mobile commerce, or m-commerce, starts with mobile banking, then is followed by mobile payments and finally by mobile remittance, Diarmuid Mallon, senior product marketing manager at Sybase 365, told the E-Commerce Times. That's the pattern evolving here. Lots of U.S. banks now allow their customers to do banking from their mobile devices.
In developing nations, on the other hand, services begin with mobile payments; progress to mobile remittances; and then go on to mobile banking.
"In both cases, the m-commerce services that are successful focus on the consumers' immediate needs," Mallon said. "In developed markets, the initial need is to manage your finances, while in developing markets, bill payments and transferring money are the focus."
The very sophistication and maturity of the U.S. market works against the rapid introduction of m-commerce, mPayy's Sheehan said. "Here in the U.S., we have a very large, robust, mature banking system that's dominated by a handful of powerful banks," he explained.
PayPal offers an alternative route to the banks, and that's one possible option for m-commerce, Sheehan said. Both PayPal and mPayy use the Automated Clearing House, an electronic network for financial transactions in the U.S.
Slouching Toward M-Commerce
Only 7 percent of all mobile subscribers had engaged in any sort of m-commerce within the past 30 days in the second quarter of 2009, according to Nielsen Mobile. Of these, only 25 percent made a purchase through their smartphones.
"The implication of this is that m-commerce in the U.S. is still in the early days," Chris Quick, mobile media analyst at Nielsen Mobile, told the E-Commerce Times. However, m-commerce can quickly gain momentum as consumers continue to adopt smartphones and subscribe more to data plans. How quickly networks and other providers can build out their infrastructures is another factor. "Carriers, retailers and financial institutions have to deliver payment systems that consumers believe are 100 percent secure and private," Quick explained.
It's all an issue of perception, mPayy's Sheehan said. PayPal's and Amazon's e-commerce systems are more secure than those of other large retailers, he contends. "For example, PayPal encrypts the important data on the server side," he pointed out. "The banking sector and card networks are patchworks of networks interlinked, with gaps in them at times." Also, large retailers use PCI encryption, which Sheehan describes as a "joke," and some don't even encrypt the data within their firewalls.
The payment card industry has evolved a set of standards, known as the Payment Card Industry Data Security Standards, or PCI-DSS, with which retailers must comply if they accept credit and debit cards. However, the standards have been widely criticized as being too complex and too full of loopholes to be workable.
Two leading retailers, Amazon and PayPal, are launching projects that might speed up the development of m-commerce here in the U.S.
Earlier this month, PayPal opened up its global payments platform, PayPal X, to application developers. It unveiled new application programming interfaces (APIs) as well as a new developer portal. It also demonstrated a mobile payment software development kit (SDK) that lets developers embed payments directly into mobile applications, starting with iPhone apps.
Among other things, developers can build applications for person-to-person or business-to-business payments with the new Adaptive Payments APIs. The mobile SDK will be available in the first half of 2010.
At around the same time, Amazon.com announced Amazon Mobile Payments Service. This gives developers, merchants and distributors of mobile apps a way to process payments from mobile devices.
Mobile apps and services creator and distributor Handmark is one of the early users of the Amazon Mobile Payments Service. "As a leading creator and distributor of mobile applications and services, we are focused on delivering an easy, convenient mobile shopping experience for our customers," Evan Conway, the company's executive vice president of marketing, told the E-Commerce Times. Handmark's mobile apps include the New Oxford American Dictionary and Thesaurus, Astraware Sudoku, and Astraware Boardgames for Android users.
Handmark is evaluating the possibility of using mobile payments in other areas apart from sales of applications. However, it's finding that the going is tough in the U.S. "While m-payments for other, non-mobile goods exists in Europe, this space is still in its infancy here," Conway explained.