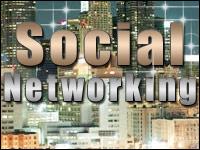 As we begin to wrap up development efforts for the holiday lockdown, we often get into conversations with our partners about strategies and priorities for 2010. (Yes, we'll be there before you know it!)
For many retailers, 2009 has been the year of social media. According to an Internet Retailer survey conducted this summer, 54 percent of the largest retailers have a presence on Facebook. Separately, Forrester Research reported that 64 percent of retailers surveyed invested in social media this year. Investment so far has been primarily around interactive marketing and a fairly straightforward presence in blogs, or other third-party social media such as Facebook, Twitter or YouTube.
For retailers interested in expanding their distribution channel, social media and social networks are quickly becoming an area they cannot ignore. Already, we are starting to see some early adopter retailers experiment with social commerce to ramp up their learning curve. We expect that the early adopters will experiment heavily in 2010, with mainstream adoption occurring in 2011. Now is a great time to start laying out the road map for how you can keep up with — and even surpass — your competitors.
With all the excitement surrounding social media, it often seems that key buzzwords have different meanings for different people. It's important to point out here that I'm defining "social commerce" as "enabling consumers to browse, view and add products to a shopping cart, within the context of a social site, like Facebook or a blog." Social commerce means extending online shopping beyond e-commerce sites to social destinations.
There are three broad phases in which a retailer can adopt social media in its ecommerce strategy:
1) Social Media Presence: Participation in social media as a way to represent the brand and to interact directly with customers via existing social channels such as Facebook and YouTube. Often this is augmented by a company blog or microsite, where more substantial content can be published. This is an extension of the interactive marketing strategy, and the effect on e-commerce is usually indirect.

2) Third-Party Shopping Portals: Participation in social shopping portals such as Polyvore and Kaboodle. Retailers can often get a boost in e-commerce site traffic by participating in these social shopping sites that span across different retailers. Some of these sites accept product feeds and retailer participation, while others don't. For a retailer (or brand) that has highly differentiated products that appeal to the shopping site's demographic, this channel may provide a significant addition to the retailer's bottom line. (An affiliate site taking the form of an expert blog or topic-specific discussion forum, via a revenue-sharing affiliate model, would be a variation of this "third-party site" use case.)

3) Social Commerce: By adding commerce capabilities directly into the retailer's or brand's presence described in Phase 1, you can convert social media traffic into sales. This will amplify the traffic to your e-commerce site, and you will be likely to reach new customers who (re)discover your brand or products through their social networks. The key is to provide differentiated experiences to your customers so that the shopping experience is a natural extension of their interaction with the brand. A simple link to your e-commerce site will not do.
Opportunities for Social Commerce
The number of social media startups in the last couple of years is testament to the promise that social commerce brings to retailers. The obvious explanation: "That's where your customers are increasingly spending time." However, there are many other reasons: "Shopping is already often a social activity — people will want to shop online the same way"; or "Peer validation, which is important for many shoppers, is built into social commerce"; or "Product discovery is more fun and conducive to impulse purchases when in a social context."
Some reasons for going social are defensive: "If you don't have presence on social media, your competitors will grab the social brand mind-share"; or "Social will be the more cost-effective way to capture traffic and market reach."
Finally, for data-driven retailers, tapping into social media gives them the ability to mine data and obtain market intelligence much more effectively than when the social context is ignored or unavailable.
Road Map for Social Commerce
The possibility for interesting initiatives in social commerce is immense, but I advise you to start simple, learn, and iterate around your offering to add more features and value over time. That is, do not overinvest in risky projects too early. Shoppers have not, for example, broadly adopted downloads/installations of Facebook apps for shopping. There is no reason to believe that just because you have a large number of followers on a social network, they will download and install your app and immediately start shopping.
When you decide to take the plunge into selling via social media, it's extremely important that you give your loyal customers (as well as your new ones!) a reason to follow you there.
For example, you might want to: 1) provide special promotions (through special pricing, limited-availability products, early access to products, etc.); or 2) highlight a special shopping experience or application (e.g., a room configurator, or an outfit shopping widget).
In addition to providing reasons for customers to dive into social commerce with you, you need to make sure you operate as your customers expect you to in this new, social media context: You have to listen closely and respond quickly to them.
Social Commerce Recommendations
Whether you use an outside solution provider or develop one-off projects, make sure that the small projects you undertake are all good learning experiences. Get the basics right — such as analytics instrumentation — so that each project can be measured and used in planning for the next.
Rather than plan a big one-shot project, work on small-effort projects. For example, if your e-commerce site already has social features (product reviews, gift registry, group buying, etc.), this is a good place to start exposing some of those features. More "advanced" social features that require a lot of development work can be introduced iteratively. And wherever possible, take advantage of proven solutions that allow you to experiment easily with little time or investment.
---
Fumi Matsumoto
is cofounder and CTO of
Allurent
.