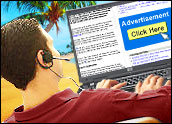 Google is amping up its display ad capabilities with the acquisition of startupTeracent, which has developed machine-learning algorithms that can create and customize an ad in real-time, based on user preferences and other characteristics.
There are thousands of such "creative elements" that can be manipulated to create an optimal display ad, according to a blog post by Google's Neal Mohan, VP of product management, and Joerg Heilig, engineering director.
"These elements can be optimized depending on factors like geographic location, language, the content of the Web site, the time of day, or the past performance of different ads," the blog states.
Terms of the deal were not announced. It is expected to close this quarter, based on customary conditions.
Building Up Display
The acquisition will allow Google to goose its advertising returns, eMarketer analyst David Hallerman told the E-Commerce Times.
"Google gets 95 percent of its revenue from paid search, so to have more revenue from an additional category — even one that is moribund and somewhat ignored by advertisers — could be an important strategy for it," he said.
More Options
In fact, the acquisition could eventually deliver a boost for online display advertising in general.
"There haven't been any significant changes or advances to display advertising in three, four years," Giovanni Calabro, vice president of user experience at Siteworx, told the E-Commerce Times.
Adding Google's knowledge store — especially around search — to Teracent's customizable functionality — would represent a significant change, he said.
For the most part, display ads are still sold in packages, in specific sizes, explained Calabro. They tend to be static, with little customization.
"This partnership breaks that paradigm," Calabro said. "Instead of merely selling a package, Google can offer a product based on an understanding of who is coming onto a site."
Changes Calabro envisions include new — perhaps unorthodox — ad sizes that may be embedded in the content itself.
Performance Art
Teracent allows you to make an ad "live," explained Paul Knegten, head of marketing for Dapper. "Their technology allows it to have moving parts and target different messages in real-time."
Dapper provides similar functionality, he said, pointing to an ad campaign the company supported for online travel: A search for hot tourist spots in Italy, for instance, would yield display ads of hotels in the country.
In that way, display is able to function more like the dynamic search advertising space, said Knegten.
"Until now, display has been all about taking a billboard and shrinking it down to a pre-established size," Knegten said. "I am glad to see more performance entering the space."