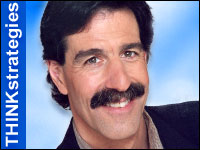 One of the biggest challenges in today's rapidly evolving cloud computing market, if you're an aspiring vendor, is how to clearly differentiate your offerings in an increasingly competitive environment. This is especially difficult because of the Web's knack for sucking the value out of everything it touches.
In fact, one of the primary attractions of today's cloud computing capabilities is that they cost a fraction of the price of comparable on-premise systems or traditional software applications.
When price is a primary driver of a market, it is tough to avoid having your "products" viewed as a commodity. Some vendors will be able to set themselves apart in this "cloud rush" atmosphere by offering more functional capabilities supported by leading-edge technological innovations.
However, having superior solutions is not necessarily the best path to success. The tech industry is littered with failed companies that tried to sell the perfect solution but were outmaneuvered by competitors that offered a more compelling value proposition backed by a more effective go-to-market strategy.
From Computing Power to Powerful Information
I firmly believe that the winners in the cloud computing market will be those who capitalize on the power of their community. I'm not just talking about a battle over "eyeballs" or scoring the most "friends." I'm suggesting that today's cloud computing vendors have an opportunity to shift their focus from simply supplying raw computing power to distributing more powerful information.
Today's cloud computing vendors have a unique opportunity to track and analyze user behavior. While many firms have experimented with reselling this data and have faced serious customer resistance, none has fully recognized the opportunity to retain and repackage that data and offer it as an additional service.
Offering benchmark services and industry best practices based on this data can set a cloud computing vendor apart from peers that are simply promoting their technical competencies. Adding insight to this operational information can make a cloud computing vendor a "thought-leader" and more valuable resource in the eyes of customers.
Join the Club
This is particularly important because most IT/business decision makers are uncomfortable with the concept of cloud computing and are likely to gravitate to those vendors they trust as suppliers.
As a result, many customers will be attracted to vendors that are perceived as the centerpiece of a growing "club" of like-minded decision makers, even if the vendor's solutions are not clearly differentiated from a technical perspective. In many cases, these customers will even pay a premium price to join that club.
This isn't a new idea. Tech vendors and consulting companies, like IBM or Accenture, have built their brand equity around their thought-leadership and the perceived value of their customer bases for years.
Cloud computing companies have access to even greater data and have an even tighter connection to their customers because of the nature of their services. Those cloud computing companies that capitalize on these advantages will be in the best position to differentiate themselves in the market and gain a competitive edge in the future.
---
Jeff Kaplan
is the managing director of
THINKstrategies
and founder of the
SaaS Showplace
. He can be reached at
[email protected]
.