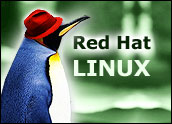 Linux software solutions provider Red Hat, Inc. (Nasdaq: RHAT) has expanded its European business apparatus by establishing Red Hat France and Red Hat Italy.
The new operations, headquartered in Milan, Italy and Cagnes sur Mer, South of France, will function as wholly-owned Red Hat subsidiaries and deliver software, support and training services to its European enterprise-level business customers.
Red Hat Free Europe
The Research Triangle Park, North Carolina-based Linux vendor originally established Red Hat Europe in July 1999 with offices in London and Stuttgart, building upon the company's previously established European distribution, engineering and service partnerships. Since then the company has set up European headquarters in Guildford, Surrey, in the United Kingdom.
"Fast-growing enterprise businesses in Europe want localized Linux solution and service providers," commented Colin Tenwick, vice president for Red Hat Europe, Middle East and Africa.
Red Hat France will position itself to deliver the company's Linux software and support to French-speaking enterprise users in France and elsewhere, including Northern Africa. The opening of the Red Hat Italy office comes on the heels of the company's recent acquisition of Sistemi Research Laboratories, Italy's largest distributor of Red Hat Linux software.
The Penguin Goes Global
Industry insiders and analysts alike have long looked to non-U.S. markets as a better test of the attraction of the Linux open-source OS. According to Sam Ockman, president and founder of Penguin Computing, many of his company's "international customers have not yet developed Microsoft-centric computer habits."
In mid-1999, Penguin Computing — a provider of Linux-based hardware solutions — announced the extension of support in 15 languages in addition to English. According to International Data Corp. (IDC), there are currently upwards of 12 million Linux users and machines worldwide.
Linux-Based Security
In other Linux-related news, Internet security solutions provider WatchGuard Technologies, Inc. (Nasdaq: WGRD) announced the availability of its LiveSecurity System for Linux.
The new product will join the company's Linux-based Firebox security appliance, which debuted in 1996.
Red Hat Support
"Red Hat has been an important resource for feedback on the design and implementation of WatchGuard's Linux-based systems," commented WatchGuard CTO David Bonn. "In July of 1999, Red Hat tested an early version of WatchGuard's new LiveSecurity System for Linux, including the new security management software for the Linux OS, and is currently planning to implement the system throughout its worldwide network of over a dozen Fireboxes."
LiveSecurity for Linux is a hardware and software security solution for small, medium and large distributed enterprises, according to WatchGuard. It provides, among other things, centralized management, a security update service and a choice of several plug-and-play security appliances.