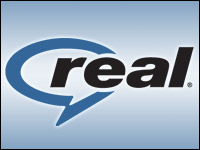 RealNetworks on Tuesday announced RealPlayer Cloud, a new service that allows users to upload video files to the company's servers and then view and share them across devices.
Billed by the company as the first integrated video player and cloud service, RealPlayer Cloud automatically transforms video formats in the cloud to give viewers the highest-quality experience possible, no matter what device or screen size, RealNetworks said.
RealPlayer Cloud apps are now available for Android, iPhone, iPad, PC, Web and Roku devices with 2 GB of free cloud storage for users in the U.S. and Canada. Additional storage is available via subscription plans that start at US$4.99 per month.
"The amount of video content that consumers are capturing and watching is exploding, but moving that video around is often painfully difficult," said Rob Glaser, founder and interim CEO of RealNetworks. "RealPlayer Cloud is a seamless and easy way to move, watch, save and share videos across all devices."
RealNetworks did not respond to our request for further details.
Autoformatting Technology
RealNetworks, which was one of the first services to bring video to the Internet, has seen its relevance chipped away as rivals such as YouTube have made it easier to post videos online.
Now, however, it hopes to become a central hub for personal videos, thus vying with the likes of YouTube and Instagram in the personal video space.
RealPlayer Cloud's multidevice functionality is enabled by SurePlay, a proprietary technology from RealNetworks that enables autoformatting of videos to fit the device type, size of screen, available bandwidth and storage space available.
A 'Me-Too Play'?
"RealNetworks' new cloud service is a good example of a company aiming for a neglected or ignored niche — in this case, creating a video service that isn't beholden to any single platform or device," Charles King, principal analyst at Pund-IT, told the E-Commerce Times.
"That may not seem particularly revolutionary until you consider how vendors from Apple to Facebook to Google and so on have attempted to exclusively corral specific media outlets and assets as value-adds for their own proprietary platforms," King added.
However, it could also be a "me-too play," suggested Jagdish Rebello, research director for cloud technology at IHS iSuppli. "They are offering the ability to have cloud storage. That is really only the distinguishing feature they have.
"It is something they need to have in today's market," Rebello told the E-Commerce Times. "Otherwise, they become irrelevant."
At the same time, "without software installed on a device, they need to have the cloud-based option, Rebello added. Yet "they aren't trying to create a new paradigm as much as trying to exist in that paradigm. They are essentially a lot more about storage than others, and that could put them at a disadvantage."
'Very Hard to Beat'
For that reason, it could make it very hard for RealPlayer Cloud to shine when there are already so many options out there for sharing video.
"They do support Roku, and there isn't a YouTube client for it," said Colin Dixon, principle analyst at nScreenMedia. Apart from that, however, "there are no particularly distinguishing features that make this stand out from YouTube. On every phone in the universe there is an option to upload to YouTube, so that makes it very hard to beat that juggernaut."
Where the proposition could work is to keep those few RealPlayer customers using RealPlayer.
'Fighting for Its Life'
"Think of this as a way to hold customers in the service and hold out expanding competitors," Rob Enderle, principal analyst at the Enderle Group, told the E-Commerce Times. "A cloud offering tends to work the same on every platform, and if you are a RealPlayer customer, you will be more likely to stay a RealPlayer customer as a result."
In other words, "this will more likely slow defections and buy them time," added Enderle. "The firms they are now competing with are better-funded and have more ways to get through to the user. Real is fighting for its life here, and they aren't alone."
Indeed, whether RealNetworks can succeed with this approach is anyone's guess, King concurred. "It really depends on whether consumers are sick and tired enough of vendors snarling and posturing to adopt a new, handy, easy-to-use, heterogeneous platform/player."