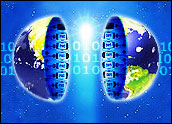 Provisions in a proposed international treaty that civil liberties groups, developing nations and technology organizations claim will threaten the free flow of information on the Internet have been sidetracked by the pact's writers in Geneva.
The U.N. World Intellectual Property Organization's (WIPO) Standing Committee on Copyright and Related Rights, which is fashioning a new international treaty on broadcast rights, agreed on Friday to remove from its draft of the pact provisions that would give distributors of webcast content control over that content through a new class of intellectual property rights.
"This is a layer of intellectual property rights for the people that transmit the information," James Love, director of the Consumer Project On Technology in Washington, D.C. told the E-Commerce Times.
Owners Who Would Be King
"The guys who own the information don't like that because they want to be king," he contended.
Moreover, the new right would allow some information transmitters to cash in on content they obtain for free. "Radio stations, for example, have access to content without paying anything," Love asserted.
He said that the move to extend the new IP rights to the Web, which is supported by the U.S. delegation to WIPO, is backed by the Digital Media Association (DiMA) and Yahoo.
Bid for Parity
Yahoo, headed by former Hollywood executive Terry Semel, sees itself as a competitor to broadcasters and wants the same rights they do, according to Love.
"It wants the same deal that the TV and radio guys get, whatever it is," he said. "It doesn't care if they get thin rights or fat rights or this right or that right, it is all about parity for them."
By persuading WIPO to carve webcasting from the treaty draft, he continued, "we shattered the idea that parity is a good idea."
Attempts by the E-Commerce Times to reach DiMA and Yahoo for comment were unavailing.
Complicated Clearances
Gwen Hinze, International Affairs Director for the Electronic Frontier Foundation in San Francisco explained that the proposed webcasting provisions would complicate the permission process for content.
"Any time a technologist wants to innovate, they'll have to get two sets of rights clearances at a minimum," she told the E-Commerce Times. "They'll have to get clearance from the copyright holders and they'll have to get clearance from this nebulous group of transmitters, anyone upstream from them that transmits content through a Web server."
What's more, the provisions will create a worldwide framework for technology mandates imposed by broadcasters, she argued.
"The U.S. is pushing to extend that framework to the Internet," she continued. "We don't think that's a good idea. We don't want to see Internet technology devices being beholden to a technology mandate law that tells manufacturers how to design their devices."
Retransmissions Still Covered
She contended that the breadth of the proposed rights also has dire implications for freedom of speech on the Internet. "They could have unintended consequences on a very large number of people who currently interchange ideas and exchange information on the Internet," she said.
Although provisions mentioning webcasting have been removed from the main proposal, there remains cause for concern, according to Robin D. Gross, executive director of IP Justice in San Francisco.
"The treaty still contains a retransmission right that includes retransmission by any means, including over computer networks," she told the E-Commerce Times. "So it's still the case that Internet retransmissions of broadcasts will be covered by this treaty."
Locking Public Domain
It also contains provisions allowing broadcasters to protect their new rights with "technical protection measures." That can be a problem for material that's in the public domain, maintained Gross.
"There's a lot of material in the public domain that broadcasters could simply put technological restrictions on, and it would be illegal to bypass those," she observed. "That's a problem for librarians, students and the general public interested in having access to public domain works."
Gross noted that another draft of the treaty will be aired in August. A meeting will be held in September to discuss that draft. At that time a vote will be taken to determine whether or not an international diplomatic conference should be held in 2007 to draft a final version of the treaty.
"However, the U.S. made a threat at the meeting [last week] that if a diplomatic conference isn't held next year, it will consider webcasting to be back in the overall package," she added.