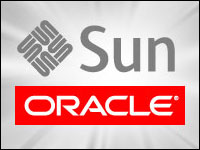 Oracle's announcement Monday that it is buying Sun Microsystems for $7.4 billion in cash ($9.50 per share) has the potential to rock the hardware and software markets.
Oracle expects the deal will boost its earnings considerably over the next few years.
The two companies' technologies will likely mesh to make Oracle an even bigger powerhouse. Its offer is marginally better than that of IBM, whose bid to buy Sun tanked about two weeks ago.
News of the purchase sent Sun's shares soaring in a generally down market, but Oracle's shares slipped.
Rock My Soul
The purchase is subject to approval by Sun's shareholders, who are unlikely to balk, as Sun is on its way to turning in its worst performance in six years.
Once it goes through, Oracle's grip on data centers using Sun hardware will tighten even more.
"Oracle is the database of choice in a large majority of Sun data centers," Charles King, principal at analyst firm Pund-IT, told the E-Commerce Times.
The deal could spell trouble for HP in more ways than one.
"With the acquisition of Sun, Oracle will become an even bigger competitor to HP, one of its biggest customers," King explained. "HP has very little in the way of middleware and nothing in the way of software, and this deal would have to be of considerable concern."
Further Prognostications for HP
At last year's Oracle OpenWorld in San Francisco, the company announced the HP Oracle Exadata Programmable Server and the HP Oracle Database Machine — both built by HP on its Proliant platform to speed up database processing.
How this joint project will fare once Oracle owns Sun hardware remains to be seen.
"Oracle's hardware collaboration with HP is safe in the short term, but we expect that Oracle will look to develop Solaris appliances for various Oracle software products, and data warehousing is an obvious candidate," Gartner's Andrew Butler told the E-Commerce Times.
Oracle declined comment on the Sun purchase. "Right now, we're focused on getting the deal announced," Oracle spokesperson Karen Tillmann told the E-Commerce Times.
However, her next comment hinted at possible future developments: "Part of the reason we're doing this is [that] we've gotten quite a bit of demand to simplify our customers' environments."
Money, Money, Money
Oracle expects its earnings to grow by 15 cents per share on a non-GAAP (Generally Accepted Accounting Principles) basis in the first full year after closing.
Sun will contribute more than $1.5 billion to Oracle's non-GAAP operating profit in the first year, said Oracle President Safra Catz, and this will increase to more than $2 billion in the second year.
"This would make the Sun acquisition more profitable in per-share contribution in the first year than we had planned for the acquisitions of BEA, PeopleSoft and Siebel combined," Tillmann said.
BEA's middleware technology is a key underpinning of Oracle's service-oriented architecture strategy, and middleware is Oracle's fastest-growing business segment.
Only seven months after it bought BEA Systems for $8.5 billion in January 2008, Oracle rolled out its WebLogic Server 10g R3, the first product incorporating BEA technologies. In fact, one of the major focuses at Oracle OpenWorld 2008 in September was BEA technology.
The Technology Bits
Sun provides network computing infrastructure solutions and offers servers, storage, open source software, tools, services and training. It also owns the Java technology platform, the Solaris operating system and the open source MySQL database management system. In addition, Sun focuses heavily on virtualization technology.
With the acquisition of Sun, Oracle gets a strong hold in the Java market.
"The Oracle Enterprise Application Platform is Java-based, so owning the Java platform makes Oracle more comfortable than if IBM owned it," King said.
However, Sun's SPARC business might be threatened.
"Survival of the SPARC business will depend on how strategic Oracle decides this business should be to the longer-term positioning of Solaris," Gartner's Butler said. "If Oracle targets Solaris as a Linux alternative on x86 platforms, as Sun has done, this could lead to a defocusing of SPARC."