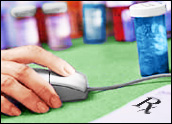 Dubious pharmacies abound on the Internet, and they're posing a threat to both pharmaceutical companies and consumers.
That's the main finding in brand-protector MarkMonitor's summer edition of its Brandjacking Index, released this week.
"The data shows brandjackers are profoundly exploiting brands, using increasingly sophisticated tactics, and, in the case of the pharmaceutical industry, posing an outright danger to consumers through questionable practices that indicate counterfeiting and gray markets," MarkMonitor President and Chief Executive Officer Irfan Salim said.
"Caveat emptor on the part of consumers is not a sufficient response to the depredations of online scammers and thieves," he added. "Brand holders must shoulder the responsibility of protecting their brands online from the highly developed and ever-evolving threats that brandjackers pose."
Credentials Lacking
MarkMonitor researchers discovered that the majority of prescription drug sites that sell the most popular brands of pharmaceuticals often lack credentials and contain lax security.
Of the nearly 3,200 online pharmacies monitored by the researchers, only four were accredited as Verified Internet Pharmacy Practice Sites (VIPPS), a credential created by the pharmaceutical industry to assure consumers that an online pharmacy can be trusted.
They also found that 10 percent of the pharmacies monitored in the study stated that prescriptions weren't necessary for purchasing drugs at their sites.
Customer Info Unprotected
More than 50 percent of the sites studied, the report noted, do not secure customer information.
A majority of the sites do not use SSL (secure sockets layer) encryption, it said, and in more than 20 percent of post-purchase e-mails captured by the researchers, unencrypted links to customer information were found.
Revenues from six popular drugs for sites in the survey with enough traffic to be ranked by Alexa — which was about one-third of the 3,200 sites monitored — was estimated to be US$4 billion.
Inferior Drugs
There is also evidence in the study that the drugs being dispensed at the sites are of inferior quality, asserted MarkMonitor Chief Marketing Officer Frederick Feldman.
"I thought I would never be able to say with any certainty that any of the stuff traded on these sites was good, bad or indifferent, but we did an analysis, and I think we got to that," he told the E-commerce Times.
The researchers compared the sale price of a popular drug at three VIPPS pharmacies in the survey with 30 without that accreditation, he explained.
"The average price on the non-VIPPS sites was 75 percent cheaper than what you could get on the certified sites," he said, "which is interesting because that drug has about a 45 percent discount in the entire discount chain for that drug from manufacturer to consumer.
"That made it pretty clear to us that something was awry," he declared. "They're either fake, stolen, diluted, expired, alternative — not what you thought you were getting."
Criminal Elements Involved
There is also evidence that criminal elements are involved in the Net pharmacy business, he added.
"Some of the sites were hosted on servers that weren't owned by the companies selling the drugs," he said. "for example, we found one pharmacy hosted on one of the world's largest IT services company's Web site without its knowledge."
Although the report cast doubt on the quality of the drugs being sold at unaccredited online pharmacies, evidence that those drugs have caused harm to consumers is scant, according to Peter Rost, a physician, former vice president at pharmaceutical giant Pfizer and author, whose latest book is a novel, "Killer Drug."
"There is a big problem in the U.S. with consumers going on the Internet, buying drugs at ending out with who knows what," he told the E-commerce Times.
"To challenge for the drug industry isn't so much that they're losing tremendous sales to drugs sold on the Internet," he continued. "The challenge is they really can't find too many people who have been hurt by them."
Fighting Re-Importation
That's important to the drug industry because it bolsters their argument that drugs should not be re-imported into the United States, he asserted.
"The drug industry needs to show that this is dangerous so people won't buy drugs on the Net," he maintained, "especially re-imported drugs because the drug companies want sell at higher prices in the U.S.
"The data in this study is pretty cool," he added, "but what it should cause is a discussion about why we have this situation, not how do we shut down these illegal operators because we can't do that. They're all over the world and we have no way of controlling them."