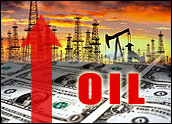 Crude oil prices rose today amid thin trading volumes as the market looked for new direction.
Light, sweet crude rose 19 cents to US$47.35 a barrel on the New York Mercantile Exchange in European trade. Heating oil prices also rose, by less than a cent, to $1.3122 a gallon.
In London, Brent for April delivery was 11 cents higher at $45.39 on the International Petroleum Exchange.
Holding Pattern
Simon Wardell, energy analyst at Global Insight, said that prices are in a holding pattern as the winter period draws to a close. The market's focus is now the Organization of Petroleum Exporting Countries' plans for the second quarter of 2005, he said.
OPEC did not make any production cuts at its last meeting in Vienna on January 30, but said changes were possible before its next meeting on March 16.
On Friday, the International Energy Agency, which advises industrialized nations on energy policy, released its monthly report estimating that global oil usage for this year would rise by about 80,000 barrels daily — primarily on increasing demand from China.
The IEA revision brings its forecast for average daily demand to about 84 million barrels a day.
Warmer weather in the U.S. Northeast will also drive demand for heating oil down, keeping prices low. Forecaster Meterologix said temperatures next week in the Northeast, which consumes the bulk of oil in the world's biggest energy user, should be near to, or below, normal.
Rising Demand
Crude prices marched upward in 2004 on rising demand as supply tightened amid psychological fears of production disruption and unrest, primarily in Saudi Arabia, Iraq, Nigeria, Russia and Venezuela.
While Nymex crude oil prices remain about $8 lower than the all-time closing high of $55.17 set in late October, they are nearly 40 percent higher than a year ago.