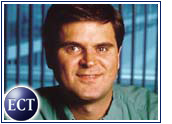 One has to wonder if America Online CEO Steve Case and Time Warner Chairman Gerald Levin were both asleep at the switch earlier this month when Time Warner decided to yank Disney-owned ABC's programming because of a contract dispute.
The blackout came on the eve of an important rating sweeps night and lasted almost 48 hours, causing 3.5 million consumers in 11 markets to become extremely ticked off at the media giant.
Many cable subscribers were especially infuriated because they were kept from viewing a much-anticipated "Who Wants To Be a Millionaire?" celebrity episode that featured Rosie O'Donnell and nine other popular TV figures as contestants.
"Demons of Distrust"
By flexing its cable muscle so brashly, Time Warner also raised the hackles of Federal Communications Commission (FCC) chairman William Kennard, who heads one of the government agencies that must approve the proposed blockbuster merger of AOL and Time Warner.
"The Time Warner-ABC dispute raised demons of distrust among consumers, and it raises concerns about whether or not the cable industry is capable of being the honest gatekeeper to the Internet that it says it wants to be," Kennard said soon after the blackout.
Disney Strikes
AOL and Time Warner played directly into Disney's hands by giving credence to the Mouse's argument that the proposed merger would enable the new company "to discriminate against unaffiliated content providers, thereby limiting and skewing consumer choice."
Disney kept the momentum going last week by asking federal regulators to impose a series of tough anti-discrimination rules before considering approval of the merger.
For example, Disney wants the FCC to prohibit AOL Time Warner from refusing to deal with unaffiliated content providers or distributors. Disney has also asked the agency to prohibit the new company from opting out of presenting competitors' information on electronic programming guides or from using its Internet routers to slow down rival Web sites on its broadband network.
Although Disney presented no evidence that any of those practices has ever occurred, raising the questions successfully cast a suspicious light on what could happen if the merger becomes a reality.
It is ironic that the same objections that Disney is raising against the AOL/Time Warner merger were raised against the Mouse when it acquired Capital Cities/ABC in 1995.
Damage Control
In the aftermath of Time Warner's publicity fiasco, the company wrote a letter to members of the U.S. Congress, apologizing for the fact that its dispute with Disney hurt consumers.
"There was a clear and honest disagreement between companies, but we at Time Warner are sorry we let it get to a point where consumers were put in the middle," said Timothy Boggs, a Time Warner senior vice president.
Meanwhile, AOL President Bob Pittman has been trying to counter Disney's objections over the merger's potential for creating a content monopoly by saying that the Internet is too vast for one gatekeeper and that it would not be in AOL Time Warner's best interests to block content that consumers obviously want.
Still Spinning
In my opinion, Time Warner's contrition and AOL's continuing reassurances are just so much corporate spin and not nearly enough to turn the tide in their favor.
Meanwhile, iCast, a company that has developed an instant messaging service with Tribal Voice, says that AOL is still squelching its efforts to compete with AOL's ubiquitous Instant Messenger (IM) service. The iCast allegation echoes those made by Microsoft and others in an e-mail sent to the members of the Senate Commerce Committee in March.
AOL could wipe away much of the doubt Disney has created by simply allowing its subscribers access to competing instant messaging services. Such a goodwill gesture would go far to quell the harm Time Warner did earlier this month. Plus, it would show the world that AOL is willing to behave like a mature and responsible player in an industry that has been dominated by too many juvenile antics.
Of course, that scenario coming to pass has as great a likelihood as slaying "demons of distrust" with a Mouse.