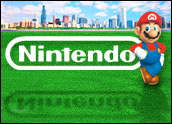 Nintendo on Wednesday reported a net loss of about US$81 million (8 billion yen) for the quarter ending Sept. 30 and blamed the dismal results at least in part on disappointing sales of its Wii U video game console.
The company had reported a profit of roughly $87.5 million the previous quarter.
While sales of the Wii U were actually up this quarter and nearly doubled from 160,000 for the previous three months to 300,000 units, those figures still fall far short of the company's goal to reach 9 million total units sold by the fiscal year ending in March of next year.
Nintendo made a mid-year price cut on the device, which was released last November.
The company noted in its quarterly report that Wii U hardware has had a negative impact on its profits, due mainly to its markdown in the North American and European markets.
It posted an operating loss of $237 million for the first half of the fiscal year, but it did not change its overall forecast for Wii U sales and a $1 billion operating profit.
'Underpowered for Core Gamers'
The Wii U has not been the success that the Nintendo Wii was, but a number of factors need to be considered, not the least of which is that as next-generation systems go, the Wii U isn't exactly on par with the upcoming Microsoft One or Sony PlayStation 4. Even with its yearlong head start, the Wii U may not be up the task of competing with those consoles.
"That is somewhat debatable," said Lewis Ward, IDC's research director for gaming. "It is true that the Wii U has less than half the power than the Xbox One or PS4, so it is underpowered for those core gamers. What Nintendo has done is what it has always done, and charted its own course."
IDC surveys have found that Wii U owners are "pretty happy with it," Ward told the E-Commerce Times, "but the company has gone in a unique direction, and that has consequences. "
'Too Early to Make a Call'
With the new entries from Microsoft and Sony coming out next month, it also could be a major challenge for Nintendo to remain in the race.
"Even after the price drop, the sales haven't picked up, but it is still too early to make a call on whether the Wii U is going to be a major player in the next-generation console race," said Ward. "It is so early in the life cycle that making any kind of call is premature."
That price cut could, however, make a bigger difference as the holidays approach, Ted Pollak, senior analyst for the game industry at Jon Peddie Research, told the E-Commerce Times.
Consoles Under Pressure
"Nintendo will be able to improve sales of the Wii U — we are not talking huge success, but look what they did with the 3DS," Pollak explained. "There was a huge improvement in sales after they changed the pricing."
Ultimately, though, all consoles are under some pressure from smart devices and PCs, "not because the tablets and PCs replace the consoles but because some consumers have limited money for electronics, and may choose utility for school or work," he added.
"Nintendo, Sony and Microsoft's console customer base is a few hundred million consumers who want a better gaming experience than smart devices currently offer," Pollak noted. "A large percentage of these consumers are willing to pay a significant margin for this experience, while others choose to sacrifice the gaming quality for utility."