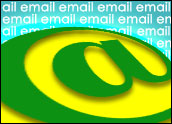 If there's anything that can be called heresy in free-for-all cyberspace it's the notion that people should pay for e-mail, but that didn't stop a few heretics this week from announcing monetized e-mail initiatives.
Although Yahoo and AOL took the lion's share of the limelight with their "certified e-mail" proposal, a feisty start-up in the Netherlands also launched a pay-for-e-mail service called Emaildome.
The idea behind Emaildome is that some people must have a fast response to their electronic missives, and they're entitled to get it — for a price.
We'll Get Back to You in a Year
Tim Wijnen, founder of the Uden-based service, explained Emaildome grew out his customer service experience with his local Internet Service Provider (ISP). "It took me more than one year to get a quality answer," he told the E-Commerce Times. "It frustrated me very much."
That's why he developed Emaildome.
Under the Web-based scheme, a company enrolls certain e-mail addresses into the program. When a message is sent to those addresses, they're diverted to the Emaildome system.
There an automated message explaining various service options is generated and sent to the message originator.
After choosing a service level — one hour, four hours, one day, five days or free — and making a payment, the message is returned to the company for action.
Consumers Behind the Wheel
"We're placing the sender of the e-mail in the driver's seat, he asserted. "He can determine the priority and time it will take to receive a reply."
If a company doesn't respond within a required time frame, the consumer's payment is refunded, Wijnen explained. "Emaildome will monitor 24-7 the performance of all merchants," he said. "They will be alerted when the service level is not reached on a message."
Since the service went online last week, Wijnen said that he's received inquiries from many companies in Europe, especially ISPs, mobile phone carriers and response management firms. "They all admit and confirm that this solution could be the answer to their customer satisfaction problems," he observed.
Guaranteed Delivery
While Emaildome places the onus of payment on consumers, the pay-for-mail system revealed by Yahoo and AOL puts it on merchants.
Working with Goodmail Systems, the pair plan to launch in two months a program that promises guaranteed delivery of bulk e-mails for a fee ranging from 1/4 of a US cent to one cent per e-mail.
According to Yahoo spokesperson Karen Mahon, the Goodmail program will be transparent to most of the service's rank and file members.
"Yahoo e-mail users will continue to have the exact same free e-mail experience that they enjoy today," she told the E-Commerce Times, "and e-mail senders will be able to send messages exactly the same way that they have been.
"What we're talking about is an additional layer of protection to keep people even safer from spammers, scammers and phishers," she added.
Flagging Transactions
She noted that the Goodmail system will initially be tested on "transactional e-mail" — messages such as bank account statements and purchase receipts.
"Those are the type of messages that would be flagged in the inbox as certified mail," she said. "We think this could provide an additional layer of information for our users and protection against phishing scams."
Andrew Lochart, senior director of marketing of Postini, an e-mail security firm in San Carlos, Calif., cast doubt on the effectiveness of pay-for-mail schemes in addressing the spam problem.
"These people are underground," he told the E-Commerce Times. "You can't go to them and present them with a bill saying, here's a bill for a million dollars for all the spam you've sent."
Will It Catch On?
Is pay-for-mail the wave of the future? No way, say critics of the practice.
"There will be a hue and cry from consumers and from the people that value the democratic principles underlying the 'Net to resist this move," David Hughes, CEO of Reflexion Network Solutions, a spam-fighting firm in Woburn, Mass.
As for the Yahoo-AOL proposal, he asserted, "I don't think it's what the market wants, and I think they will meet with extreme resistance to a plan like this."