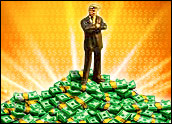 Spark Capital, one of the early investors in Twitter, Akamai Technologies and Novatel Wireless, has launched a new seed fund for technology entrepreneurs, specifically in the Boston and New York City areas. Called "Start@Spark," the program will provide up to US$250,000 in seed money to business starters.
Spark focuses on the convergence of media, entertainment and technology, and it funds companies that take advantage of the disruption accompanying that convergence.
The current environment has made it difficult for entrepreneurs to dig up capital and start new businesses, Spark says on its Web site. However, Spark posits that now may be the best time in nearly a decade to start a company.
Spark did not provide any more details or respond to requests for comment by press time.
A Need for Seed?
Spark is certainly not the only company looking to pump money into the media technology market. Back in 2006, Charles River Ventures launched its QuickStart Seed Funding Program, which offered up to $250,000 in seed money to entrepreneurs. CRV QuickStart, as the program is called, targets the telecommunications and technology, software and services, and new media sectors.
Then there's Sequoia Capital, which has provided seed money for years to entrepreneurs including Meebo, Cast Iron Systems, Dropbox, FireEye and LogLogic. It kicks in between $100,000 and $50 million to fund an idea.
Despite Spark's claims on its Web site that it's hard for entrepreneurs to get money to start their companies now, the number of seed deals has remained pretty constant, according to Jeffrey Sohl, director of the Center for Venture Research at the University of New Hampshire.
"There were 444 seed deals in the U.S. in 2008 out of a total of 3,808 deals, which is about 11.5 percent," Sohl told the E-Commerce Times. "In 2007, there were 414 seed deals out of 3,813, and that's about 10.8 percent."
Now for the Little Guy
However, not all entrepreneurs want or need investments of six figures or larger. "Given the challenging macro environment, venture capitalists want to play it safe," Julien Blin, principal analyst at JBB Research, told the E-Commerce Times. "They don't want to put all their eggs in one basket."
That has given rise to smaller, socially conscious venture capitalist companies like Y Combinator and TechStars.
Y Combinator has traditionally put up no more than $20,000 in seed money, but it also provides a lot of ancillary services, including teaching entrepreneurs how to pitch their startups and close a deal.
TechStars is a mentorship-driven seed stage investment fund in Boulder, Colo., that was founded in 2006. It provides up to $18,000 in seed funding and runs a summer program for entrepreneurs. It accepts only about 20 entrepreneurs a year, equally divided between Boulder and Boston.
The Incredible Shrinking Loan
The micro-loan market, where five-figure sums are put up for seed money, is growing increasingly attractive even to the larger venture capitalists. In mid-March, for example, Sequoia and three angel investors put up $2 million to back a new fund started by Y Combinator that will focus on making seed loans of between $5,000 and $20,000.
"This is a trend that's been happening throughout the VC world lately, and I think it's a good one," Paul Graham, one of Y Combinator's four cofounders, told the E-Commerce Times. "Some of the VCs like CRV and Spark make these smaller investments under formally named programs, but many more have just started quietly doing it."
The number of VCs offering micro-loans may grow. "VCs have always been very small players in the seed market," the Center for Venture Research's Sohl said. "If you have a $300 million fund, it's not economically feasible to do a bunch of $200,000 deals."