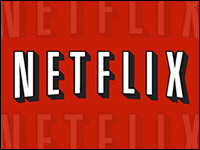 Netflix has already produced original content including Emmy-nominated House of Cards, but now it looks like the over-the-top streaming service may be interested in producing feature films destined for the silver screen as well.
Specifically, instead of taking an approach such as HBO's or Showtime's and making made-for-TV features, Netflix hopes to make movies for theaters and show them on its service at the same time, Netflix Chief Content Officer Ted Sarandos suggested at the 2013 Film Independent Forum this past weekend.
"What we're trying to do for TV," Sarandos said, "should extend pretty nicely for movies.
"Why not premiere movies on Netflix the same day they're opening in theaters?" he added. "Not little movies — why not big movies?"
Netflix declined to provide further details.
'Netflix Has to Do Something Big'
"I would be surprised if Netflix became a movie studio, given the costs and complexities, but then they have proven that they can produce quality original content for TV, so perhaps it's no longer as big a stretch," Greg Scoblete, analyst for Digital Tech Consulting, told the E-Commerce Times.
"What's more, Netflix has to do something big to recoup the money they're losing from their crumbling DVD business, which no one talks about but is still a margin-rich source of revenue for the company," Scoblete added.
"A movie, like original content, may not in and of itself make Netflix any more profitable — it could potentially do just the opposite — but it will further the company's exposure, and if it's good enough — or buzzed about enough — it just might incentivize people to subscribe," he said.
'A Way to Attract New Customers'
Such a move could also be an indication of Netflix's continuing evolution into a premium content company, Joel Espelien, senior analyst at The Diffusion Group, told the E-Commerce Times.
"They are already producing their own TV shows, so it stands to reason that they would be looking at feature films as well," Espelien added. "In the movie business, 'straight to video' has never resulted in big success, except for a few kids' titles. Movie marketing still is dominated by the theatrical release."
So, "if Netflix could release a movie in the theaters that was then only available on Netflix afterwards, that could be a way to attract new customers to the service," he suggested. "Either way, it shows that Netflix believes content is king and is thinking of all the possible ways to make it work for them."
'The Experiment Has Largely Failed'
Whether the studios would line up to participate, of course, is another question.
"Hollywood has already experimented with these 'day and date' releases where a film debuts in the theaters and online simultaneously, and the experiment has largely failed," noted Scoblete. "The streaming costs have been very high and consumers haven't shown much interest in paying that kind of premium for the luxury of sitting at home and watching a movie on the small screen."
It's not clear how Netflix would handle pricing for a day-and-date release — "or, in fact, whether this is anything more than a trial balloon to see how the market reacts," he added — "but it's an interesting proposition."