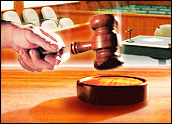 The Motion Picture Association of America (MPAA), the trade group for the US movie industry, said Tuesday it has settled lawsuits with 321 Studios, a now defunct company which once made software which allowed consumers to make back up copies of DVDs and video games.
Earlier this month, 321 Studios ceased doing business as a result of pressure from several lawsuits, including many by the movie studios and video game manufacturers.
The MPAA said in a statement that terms of the agreement included the founders of 321 Studios making "a substantial financial payment" to the studios in addition to an agreement to discontinue selling its software, which the MPAA said infringes on the films' copyright.
Outgoing MPAA president Jack Valenti commented on the settlement, proclaiming, "321 Studios built its business on the flawed premise that it could profit from violating the motion picture studios' copyrights. The courts have been amply clear — there is no leniency for violating federal copyright laws."
The MPAA also said that proceeds from the settlement would be used to aid the industry's continuing battle against software piracy.
Two weeks ago, a federal judge granted a preliminary injunction, sought by three major video game publishers, to block the sale of 321's "Games X Copy" program.
The disputes began in early 2002, when 321 Studios sued the studios, seeking a ruling that its DVD-copying software was legal.
The MPAA later counter-sued 321 Studios. Yesterday's settlement brings to a close cases in Great Britain, California, New York.