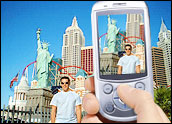 Numerous sites supporting some form of mobile photo sharing have popped up over the past few months, ushering in the next big social media trend.
While the press coverage of these sites generally has been positive, they also have been subject to a fair amount of criticism in online forums. The common knock is that sharing photos over cellphones is a big fat waste of time, and society as a whole would be better off if the people developing these sites devoted their time and talents to creating something with redeeming social value.
It's tough to refute that argument when some journalists are hailing the ability to send your friends a picture of the salad you're having for lunch, rather than simply telling them about it, as a major technological advancement.
A Money-Making Formula
As I read the critiques of photo-sharing sites, however, I'm reminded that the same debate accompanied the debuts of Facebook and Twitter.
I also believe there's one big problem with the argument that photo-sharing sites offer nothing of value. Few people start businesses to cure societal problems. Most do it to make money. If they succeed, they typically provide paying jobs for other people, which actually is a benefit to society.
In the social media realm, the formula for making money is to first attract large numbers of users and then figure out how to convert that audience into a series of revenue streams.
The photo-sharing services seem to have the part about attracting users down. A service called PicPlz recorded 130,000 downloads of its applications for iPhone and Android users in the first six months after its launch.
Venture Capitalists Take Notice
Another site, Instagram, has done even better, signing up 2 million members — who collectively upload 290,000 photos each day — in its first three months of existence.
All this activity has caught the attention of venture capitalists.
Instagram netted a US$7 million investment from Benchmark Capital early this month. This funding should help Instagram keep pace with the growing list of photo-sharing services, including PicPlz, which last November was the recipient of a $5 million round of funding from Andreesen Horowitz, the venture capital firm cofounded by Marc Andreesen, who first became famous for developing the Netscape Web browser.
As part of the PicPlz funding deal, Andreesen Horowitz also joined the board of Mixed Media Labs, the company that created PicPlz.
With the venture capitalists on board, it's time for the folks running these photo-sharing services to start focusing on making money.
Selling Photo Filters
So far, their primary method of generating revenue has been selling filtering apps that allow users to doctor their pictures before sharing them. The going rate for these apps is roughly $1 each. Apple certainly is making that model work on iTunes and its App Store, but it's hard to see Apple-like revenue coming solely from the sale of photo-filtering apps.
It's much more likely that these services will turn to advertising as their primary source of revenue. Some of them already have stated that intention, and they have a pretty good chance of bringing in cash in that manner as their audiences expand.
There is one obvious reason these services should continue to grow: They are designed specifically for mobiles devices, which are quickly becoming users' preferred platforms for both Web surfing and social networking.
The Perfect Time Killer
A mobile photo-sharing service is the perfect tool for giving people something to do while killing time waiting in line at the grocery store, for instance.
You no longer need to be confined to flipping through tabloids filled with celebrity gossip while waiting to check out. Instead, you can pass the time browsing photo albums, and maybe even chatting about them with your friends.
As is almost always the case when a new tech trend develops, a few of these photo-sharing services are likely to emerge as dominant players. I don't know which services will earn those positions, but my early bet is that Path, a service founded by former Facebook Employee Dave Morin, will be one of them.
Path, like the other mobile photo-sharing services, allows users to build personal networks for exchanging photos. Unlike the other services, however, Path forces users to limit their networks to 50 people with whom they actually have some sort of relationship in the real world.
True Social Networks
That number is based on research that found the average person can't maintain truly meaningful relationships with more than 60 people at a time. This limit, in my mind, conquers one of the biggest problems with services like Facebook and Twitter: the race to acquire large numbers of friends or followers, most of whom you never converse with in any real fashion.
With a 50-person limit, there's a chance that these mobile photo-sharing sites can become social networks in the true sense — helping people foster and nurture real relationships.
I'm not sure these networks will ever be able to satisfy those people who think they have no redeeming social value. But I'm also confident that the people who lobbed the initial criticism at Facebook and Twitter never imagined those services would play a prominent role in toppling long-standing Middle Eastern regimes.