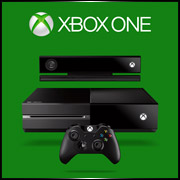 Microsoft has released an unboxing video for its upcoming Xbox One video game console, which will arrive this holiday season. In addition to the console, gamers will get a number of accessories: the expected Xbox One controller; a Kinect sensor that supports 1080p video; a category 2 HDMI cable that will be capable of outputting video in 1080p, 3D and even Ultra-HD (4K); a wireless adapter that operates on dual-band 2.4Ghz and 5Ghz frequencies; and a gamer headset.
The console's specs were also addressed again, with the video confirming that the system will feature a 600-GB hard drive, slot-loading Blu-ray optical drive, HDMI input and output, three USB 3.0 ports, a Kensington security slot, an IR blaster port and an S/PDIF interface. The GPU speed was confirmed to be 853 MHz, up from the previously announced 800 MHz. The system will also offer built-in WiFi.
Still unknown is the speed of the 8-core CPU, which will likely be announced later this month at the Gamerscon fan event.
Subscription Fee
Microsoft also shed some light on the features that will be available for Xbox Live Gold members for an annual subscription fee of US$60. They will include access to multiplayer gaming, access to what Microsoft is calling "premium entertainment apps," Internet Explorer on the TV, NFL on Xbox, OneGuide Game DVR, SmartMatch and Skype. The latter four offerings are new to Xbox One.
As soon as word got out that these features would be part of the subscription package, there was an immediate backlash throughout the blogosphere, criticizing Microsoft for charging for options it had previously said would be included.
It may be that in its previous references to these features, Microsoft never actually said they would be offered for free.
The uproar doesn't make a lot of sense, Digital World Research's P.J. McNealy told the E-Commerce Times. "How is paying $60 for Xbox Live on Xbox One any different than paying for Xbox Live on Xbox 360?"
"This showcases the problem Microsoft has with this unit and a lack of marketing skills surrounding it," said Rob Enderle, principal analyst at the Enderle Group.
"The $60 per-year charge for what you are getting is actually pretty trivial," he said. "It's $5 a month, likely far less than you pay for Netflix or TiVo, but they present it at an annual total, and $60 sounds like a lot," he told the E-Commerce Times.
"It is almost as if someone intentionally wants folks to see this in a negative light because it is being presented in a way that most would find objectionable," added Enderle. " Makes you wonder if Microsoft has someone working for them that wants to kill the Xbox."
Always On Is Off
Since before the Electronic Entertainment Expo, when key details of the system were revealed, Microsoft has been facing a significant backlash and has back pedaled on a few key points, including the required always-on connection.
Some of the moves have earned the system the nickname "Xbox 180."
"Microsoft tripped over themselves a bit in the early stages of the Xbox One reveal with the stumble around disc authentication," said Michael Heiss, principal consultant for M. Heiss Consulting.
"One need only look at the strong social media reaction from the hard-core gaming community and the jabs at Microsoft by Sony at the dueling E3 events to see what sort of damage can be done," he told the E-Commerce Times.
Microsoft has made attempts at damage control by adjusting its strategy since E3.
"Microsoft isn't pushing forward with the always-on thing. That is off the table," said Paul Semel, editor at Electronic Gaming Monthly. "The system will have to be plugged into the Internet at least once to register it, but beyond that there are no requirements that the system be online, so no one has to pay $60 for anything."
The fee is essentially just for the Xbox Live Gold package.
"That is really no different from what you have to pay now," added Semel.
Valve Add
In addition to providing gamers with multiplayer options, the $60 annual subscription expands on the entertainment offerings users can get from the system, including access to Netflix, Facebook and Twitter apps, Skype calling and the OneGuide feature, as well as the ability to record gameplay via the Game DVR.
"People were willing to pay it last time so obviously gamers are seeing value there," Semel told the E-Commerce Times. "Nor is Microsoft alone in charging for these features. The PlayStation Network is going to cost about the same and offer many similar features."
It still could come down to whether gamers see this as a true value-add.
"There are cheaper ways to use Skype and Netflix. Netflix is built into TVs and Blu-ray players — but for those who don't have it, or like it through the Xbox, it is there," said Semel.
"Really, it isn't likely anyone is really paying $60 to Skype," he pointed out. "They're paying to play multiplayer games, and Skype is just an added bonus."