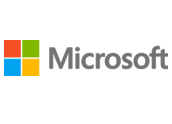 Microsoft on Thursday reported fourth-quarter earnings that missed expectations, blaming the disappointing results on the PC market slowdown and a write-down of Surface RT inventory.
Q4 net earnings were $4.97 billion, or 59 cents per share on revenue of $19.9 billion. The $900 million Surface write-down amounted to 7 cents per share.
Wall Street observers had been expecting earnings of 75 cents a share on revenue of $20.73 billion.
For fiscal year 2013, Microsoft reported earnings of $2.58 a share on total revenue of $77.85 billion. Also included are $540 million of previously deferred revenue related to the Windows Upgrade Offer and a $733 million expense related to a European Commission fine.
"While we have work ahead of us, we are making the focused investments needed to deliver on long-term growth opportunities like cloud services," said Amy Hood, the company's chief financial officer.
By mid-afternoon on Friday, Microsoft's stock price had fallen more than 11 percent.
Decline of the PC Market
As part of its report, Microsoft also noted that the earning results are in part a reflection of a decline in the PC market. Microsoft's Windows division reported that its operating income was $1.1 billion, down from $2.42 billion a year prior.
"A big part of it is the struggling PC market," Craig Stice, senior principal analyst for compute platforms at IHS iSuppli, told the E-Commerce Times. "When you're a company that relies on PC sales for a big part of your business, you're going to be impacted."
The software maker also noted, however, that it expected to see strong demand for its enterprise and cloud offerings, which could result in a record unearned revenue balance this quarter.
In addition to its corporate reorganization, Microsoft also recently announced a major price cut on its flagging Surface RT tablets.
"They do appear to be trying to get there and create an environment to help improve the PC market, just as Intel and the rest of the industry are trying to do," IHS iSupplis Stice added. "The reorg they announced last week will certainly help, and shows the desire to change; now they have to execute."
'Boneheaded Positioning'
Still, even with this admission of problems, Microsoft could find itself somewhat in the wilderness as it looks to find its way back.
"The company has yet to 'come to Jesus,'" Roger Kay, principal analyst at Endpoint Technologies Associates, told the E-Commerce Times. "That is, do an honest assessment of itself and start from there.
"The leadership is misguided," Kay added. "The PC market is doing badly, and a lot of that is Microsoft's fault — i.e., the boneheaded positioning of Windows 8, not to mention the lame strategy of launching Surface right when it most needed its partners' cooperation."
Enterprising Reach
It wasn't all bad news from Redmond, however. The enterprise side of the business had a much better story to tell, with its Server & Tools unit seeing an increase in Q4 operating income of $2.35 billion on revenue of $5.5 billion, while the Business Division — which includes Office — had operating income of $4.87 billion on revenue of $7.2 billion.
The company's Business Division revenue also grew 14 percent for the fourth quarter and 3 percent for the full year, while the Entertainment and Devices Division grew 8 percent for the fourth quarter and 6 percent for the full year.
During the final quarter of the fiscal year, transactional revenue within Xbox Live grew nearly 20 percent.
Microsoft's newly unveiled Xbox One video game console will debut in stores in November.
Broken Windows RT?
It's not entirely clear just how much damage the launch of multiple Windows platforms — including Windows 8 and Windows RT — may have created. Neither caught fire with consumers, but the Windows RT platform has been the bigger underperformer thus far.
"The general success — or lack thereof — of the Surface seems to stem, in part, from the whole Windows RT issue," said Chris Silva, analyst for mobile strategy at the Altimeter Group.
"Users want a device — a single product to rally around, seek out apps for and use to transition how they do things," Silva told the E-Commerce Times. "Offering a mix of devices — some running Windows 8, some running Windows RT — was bound to confuse the market and give buyers a reason to hesitate.
"The next, and seemingly 'less beta,' version of the tablet has seemed to be around the corner for months," he added. "Who wants to be stuck with outdated technology?"
'Microsoft Is Far Behind'
That's not to say that there is no more hope for Microsoft, however.
"The recent Microsoft reorganization shows that the tech giant is clearly doubling down on its device and service business," said Harry Wang, director of research at Parks Associates. "Its moves signal that future competitive advantages in the consumer technology industry will come from a platform-centric approach that seamlessly integrates service, hardware and software to enable a good consumer experience.
"Microsoft is far behind Apple and Google in this race," he added, "and will burn a significant amount of cash in order to catch up."