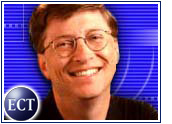 Microsoft attorneys got in the last word Tuesday as they filed their final response to the U.S. government's breakup plan, clearing the way for a ruling that is expected Wednesday afternoon.
U.S. District Judge Thomas Penfield Jackson, presiding over the biggest antitrust trial since the breakup of AT&T in 1984, has given strong indications that he is leaning toward the breakup proposal, which would divide Microsoft into two smaller companies as a remedy for the software giant's antitrust violations.
DOJ Criticizes Final Brief
Microsoft's final filing, a terse response to minor changes submitted by the government on Monday, came a day earlier than expected, repeating the company's assertions that the government's breakup plan is extreme and vague.
"The [Tuesday] filing rehashes Microsoft's old argument, ignores the extensive violations found by the court, denies the need for serious relief and grossly distorts our proposed remedy," the Justice Department said.
Microsoft CEO Steve Ballmer said Monday he believes the company will win its planned appeal. "We fully expect to prevail on the most important points on appeal, which is that we remain an integrated company and that we retain our right to continue to respond to customers and integrate new capabilities into Windows," he said.
Gates Goes to Washington
Microsoft co-founder Bill Gates is scheduled to meet in Washington, D.C. today with Treasury Secretary Lawrence Summers, Commerce Secretary William Daley and Federal Communications Commission (FCC) Chairman William Kennard.
He is also scheduled to meet with both the Democratic and Republican leaders of the House as well as the Internet Caucus during his Washington visit.
The Washington Post and other publications have reported that Microsoft has given $2 million (US$) to politicians this political season and another $715,000 to groups critical of the government's antitrust case.
Microsoft has tripled its spending on lobbying in the four years since the company got into hot water with the government over its business practices. Microsoft rivals have also increased their political spending.
Gates Soothes Developers
Many analysts believe Microsoft could survive a breakup, but that mass defections from developers worried about their futures could hurt the company.
On Monday, Gates appeared at the Tech Ed 2000 conference in Orlando to present a sneak preview of Microsoft's redefined platform for the Internet to software developers.
He pledged to spend $2 billion on the developers in an effort to keep them on the team. About three million developers worldwide write applications using Windows tools, according to Microsoft, but some have expressed fears the company has not been keeping pace with new Internet technology.
However, Microsoft's survival in the event of a breakup is not the most important issue in the antitrust case, Microsoft's Ballmer said today in a speech to Norwegian computer representatives in Sweden. "The real issue in a possible breakup would be the harm it does to innovation," Ballmer told the group.