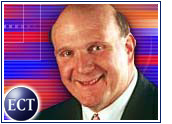 In a last ditch effort to win its antitrust battle with the U.S. government, Microsoft filed a legal brief on Monday citing an earlier case in which the government said it would be against the public interest to break up the company.
In the brief filed Monday morning, Microsoft refers to a 1995 case, stating "The government has already admitted that the breakup of Microsoft would be 'dangerous to the economy's welfare.'"
The brief says further, "The government had it right in 1995; the law does not countenance the dismemberment of Microsoft, a remedy that would clearly 'act against the public interest.'"
Microsoft argues that the government's current position has more to do with punishing the company than protecting consumers. The software giant claims that the government has not cited a single case in which an American company has been forcibly divided, and maintains that the government has relied on cases in which companies voluntarily divided themselves after they were found in violation of antitrust laws.
Eleventh Hour
Microsoft's filing on Monday further emphasizes the company's unwillingness to give in to a decision it deems unfair. U.S. District Court Judge Thomas Penfield Jackson ruled in April that Microsoft abused its monopoly power with its Windows operating system.
The government has recommended breaking up Microsoft as a remedy for the company's antitrust violations. Monday's brief is a follow-up to Microsoft's May 10th arguments against the government's breakup proposal — apparently a last minute appeal before both sides appear before the judge again on Wednesday.
Although Judge Jackson reportedly intended for the meeting to be the last in this case, sources close to both sides now expect him to grant Microsoft's request for more time to review the government's breakup recommendation.
Legal experts anticipate that Microsoft is likely to use the full appeals process, which could take up to two years. The judge has the authority to issue temporary restrictions on Microsoft's business practices during the interim.
Business As Usual
Meanwhile, Microsoft is carrying on business as usual, holding its fourth annual CEO summit — a gathering of industry leaders who will consider critical issues regarding technology and the Internet.
The agenda and the names of the participants are secret, but the 180-plus guest list reportedly includes such disparate figures as computer chief Michael Dell, homemaking guru Martha Stewart, Disney's Michael Eisner and a host of other corporate heads.
Whether Microsoft's ongoing legal battles with the government will influence the guest list remains to be seen, but in the past, powerful political figures — from Vice President Al Gore to two-time presidential candidate Steve Forbes — have attended. The summit officially opens on the same day Judge Jackson is scheduled to hold the next hearing in the company's antitrust case.
According to Microsoft spokesperson Dan Leach, the court case will have little or no presence on the summit's agenda.
"This is a chance for CEOs from all of these incredible companies to come and talk to Microsoft and talk about our vision about where business and technology are headed," Leach said in a statement, adding, "and also so that we get a chance to hear from everybody, from all of these CEOs, what challenges they face and what they think of technology and where the products are going."