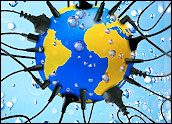 In our global economy, where outsourcing is common and the Internet makes it possible to work from almost any location under the sun, it's not unusual for a company to find itself in the position of having a large portion of its staff in various locations outside the main offices.
Particularly in the technology industry, software and application development jobs are often filled by freelance workers. Teams may frequently be in different countries but working on the same project. Arranging meetings, meeting deadlines or even just asking questions of a team or project leader becomes a challenge that must be surmounted.
In situations where there are sometimes multiple time differences, day-to-day tasks can be difficult to coordinate without a few basic rules and tools.
Common Problems
As a business owner myself, who has employees working in various locations, I've noticed that workers tend to be more productive and efficient when they don't feel as if they are working alone. There are ways around this, even when, as in many situations, the employee is in fact working by him or herself. Scheduling regular Web meetings or phone calls to touch base and address any questions that may pop up is the easiest way to keep in communication, and it goes a long way toward preempting errors or sometimes even disasters that result from poor communications.
Oftentimes unclear expectations — in the form of weak deadlines or lack of milestones — can derail projects with remote employees. When a worker is not in the office or with the rest of the team, it's easy to forget deadlines or let them slide, since there's no constant reminder. It's essential to set clear deadlines and expectations at the start of a project so that workers can properly time and pace their work. Also, in the case of Web workers or remote workforces, employers often fail to take advantage of the technology around them in order to communicate.
Sharing Information
Let's address the information issue first. In this day and age, it's unacceptable to not properly communicate with your team, especially if you're going to blame distance for the breakdown. A host of Web-based applications make it easier than ever for remote workforces to collaborate and share information. Software-as-a-Service (SaaS) project management tools, meaning Web-based tools which are hosted by the vendor and accessed solely through a Web browser, can provide forums, chat applications, file-sharing and shared calendars. All of these tools can even be accessed from one vendor, and often work together from a single dashboard.
Using a SaaS tool or tools, managers can share project details and easily update team members on any changes or new instructions. Team members can update documents and share them without the hassle of firewalls or spam filters, and they can trade tips or notes through a chat client or related forum. Shared calendars, a common SaaS application, takes the guesswork out of planning meetings since you can easily see when the other participants are available.
Deadlines and Priorities
Setting clear expectations, along with milestones and important deadlines, at the start of a project lets workers pace themselves and make the best use of their time. When your employees have a clear idea of deadlines and due dates, then they can budget their time without being surprised by deadlines. Automated email updates of upcoming deadlines can serve as gentle reminders, without the feeling that the boss is breathing down your neck.
When you are viewing your employees' current and upcoming projects, pulling status reports, assigning tasks and viewing the status of all ongoing projects, it can be easy to forget that you aren't all in one office. Many task management tools in this category also allow managers to assign tasks such as customer trouble tickets to team members as they come in. Priority settings let you tell your team which items require immediate attention and which ones can wait.
In Summary
Supervising a team that is geographically diverse is a great challenge, but it doesn't have to be difficult. You are managing without the benefits of an office setting, such as daily face time and impromptu meetings for status updates and clarifications.
However, you can't underestimate the advantages of having motivated workers operating from an environment that they're comfortable in. Additionally, the ability to recruit without geographical restraint allows you to pick the best workers, no matter where they are located and without worrying about the overhead costs of office space and equipment.
---
Yaron Sinai
is the founder and CEO of
Elementool
, a developer of Software as a Service project management tools.
---